Wednesday, 12th December 2007
Walk:
Moor Howe, Dubbs Road, Sour Howes, Moor Head, Sallows, Kentmere Park, Mickle Moss, High Borrans, Moor Howe
Start Point:
Moor Howe
Grid Ref:
NY 423 006
Distance:
8 miles
Ascent:
1,300 feet
Weather:
A chilly day with some sunny spells early on but mainly cloudy
Accompanied by:

On my own

Comments:
Ascended Applethwaite Common over the rocky ridge, giving good views on both sides. The path leads straight onto Sour Howes but the cairn that used to be there is non-existent. Heading directly North instead of dropping down to the wall, as marked on the map, was a much better path. The path leading through Kentmere Park seemed to be heading too far East so turned in a more southerly direction to cross the fence at a stile and join the main Kentmere to High Borrans track.
Scroll down to see photos of the walk
The sun catches the rolling hillside of Applethwaite Common
Troutbeck and Wansfell Pike from Dubbs Road
Only one hardy sole left on Limefitt caravan park
Applethwaite Common with Windermere in the distance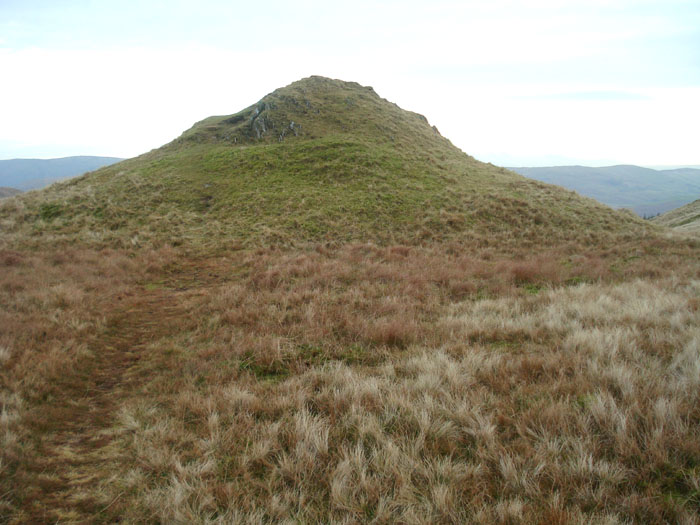 Approaching Sour Howes, the highest amongst many hillocks
Yoke, Ill Bell and Froswick from Sour Howes
Looking back up to Sour Howes
Sallows summit mound
Kentmere
Scour Rigg - unusually pointed in this area of rolling hills
High Borrans reservoir
One swan . . .
plus two cygnets . . .
actually a family of 2 swans and 3 cygnets
The adults are busy feeding . . .
and one cygnet comes to take a look . . .
but gets chased off by one of the adults . . .
while the other two cygnets play at making mirror images