Saturday, 15th September 2007
Walk:
Elterwater, Great Langdale, Side Pike, Lingmoor Fell, Baysbrown Wood, Elterwater
Start Point:
Elterwater
Grid Ref:
NY 329 051
Distance:
8 miles
Ascent:
2,100 feet
Weather:
A cloudy day with some mist in the valleys, brightening up later on
Accompanied by:

Marie, led by me

Comments:
The route along the valley bottom, part of the Cumbria Way long distance path, provided some very good views of the Langdale Pikes. Aiming above the woods, we joined the well made path up to the cattle grid, then up to Side Pike. It was quite windy on the summit and we soon retraced our steps to head round to The Squeeze, which required removal of rucksacks. At the summit we met runners taking part in a fell race, but before long our paths diverged. Shortly before reaching the gate that leads down through the quarry we found a slate bench - just in time for lunch. As we descended the wind eased and there were more sunny spells. We returned through the quarry where some of the paths have been re-routed.
Scroll down to see photos of the walk
Mist still hangs in the valley as we walk along the Cumbria Way
Great views of the Langdale Pikes
Marie begins to work her way through The Squeeze
Will she get out at the other side?
It looks impossible from this angle
But there is just enough room
Climbers plan a quick route up to the summit of Side Pike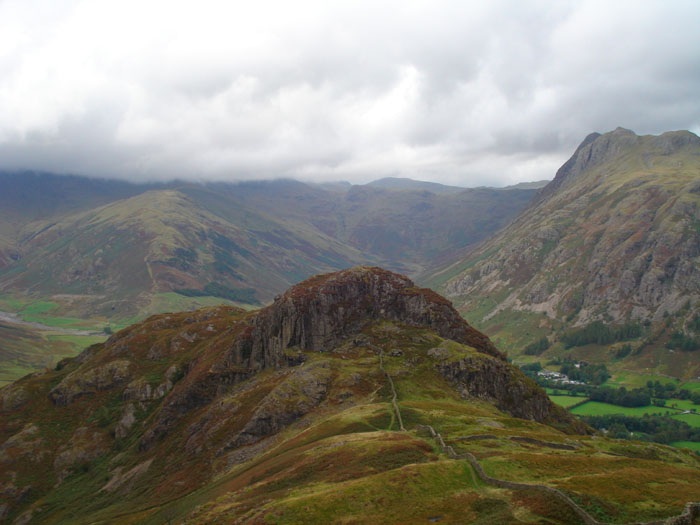 Side Pike from the path up to Lingmoor Fell
Another view of the Langdale Pikes, from the path up to Lingmoor Fell
Fell racers near the summit
Marie enjoys her lunch
We had found the perfect spot - our very own bench
Chapel Stile overlooked by Silver How
A last view of the Langdales from the quarry
Return to 2007 Diary Return to top