Wednesday, 19th December 2007
Walk:
Sadgill, Stockdale, Grey Crag, Harrop Pike, Tarn Crag, Sadgill
Start Point:
Sadgill
Grid Ref:
NY 483 057
Distance:
7.5 miles
Ascent:
1,900 feet
Weather:
A bright and clear frosty day with only a little breeze on top
Accompanied by:

on my own

Comments:
Headed up the gully from Stockdale but decided to detour to take in Great Howe. A stiff climb to get onto Great Howe but worth the effort. Path quite clear most of the way. The extra diversion to Harrop Pike was also worth doing as the walking here was quite easy. The route down from Tarn Crag was quite gradual but the valley would have been rather boggy if the ground wasn't frozen.
Scroll down to see photos of the walk
Shipman Knotts from the track to Stockdale - and it looks like the weather forecast was right
Shipman Knotts, Goat Scar and Kentmere Pike on the far right
Harter Fell, with the long track up to Gatescarth Pass
Goat Scar towers over the path up the valley
From Great Howe the pillar at Tarn Crag is just visible on the horizon
Harrop Pike from Grey Crag
Using the timer on Grey Crag - think I need a tripod
Brrrrrr!!
Harrop Pike
Looking East from Harrop Pike . . .
and southeast, Pen-y-Ghent can just be seen
Grey Crag on the left, and the fence line that the path followed
Looking across Grey Crag tarn, which is just a huge boggy area - frozen today, to Tarn Crag
The pillar on Tarn Crag - and a frozen puddle
Trying out the timer again - on Tarn Crag
Tarn Crag with Harter Fell on the left and Branstree on the right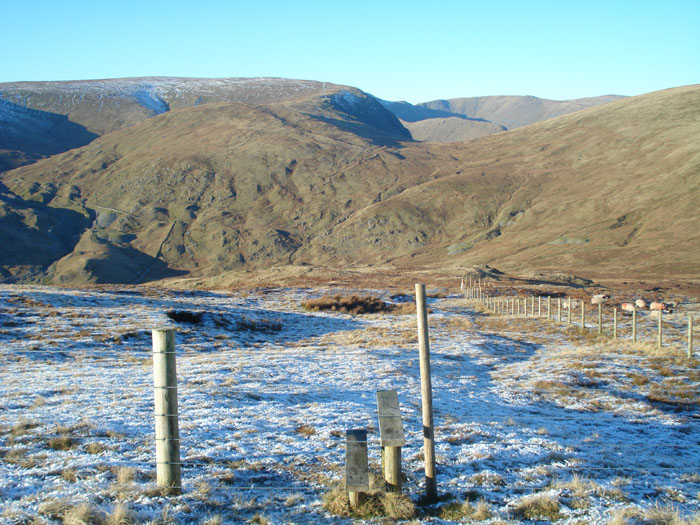 Descending from Tarn Crag, Harter Fell is on the left and the path from Gatescarth Pass can just be seen
Mosedale Cottage, originally a shepherd's bothy, and the Mosedale valley
Buckbarrow Crag, where ravens nest in the spring