Friday, 21st September 2007
Walk:
Aira Force car park, Bernard Pike, Gowbarrow Fell, waterfalls, car park
Start Point:
Aira Force car park
Grid Ref:
NY 400 200
Distance:
6 miles
Ascent:
1,100 feet
Weather:
Mainly dry but windy on the tops
Accompanied by:

Marie, walk led by me

Comments:
Heavy rain was forecast for the morning so we waited till the afternoon to start the walk. There was a mixture of heavy cloud and some sunny intervals. There was a lot of water in Aira Beck and the waterfalls were quite impressive. This made a pleasant half-day walk.
Scroll down to see photos of the walk
Ullswater from the path to Gowbarrow Fell
Zooming in on Ullswater
Gowbarrow with Little Mell Fell behind
A feast of pine cones on the path down to Aira Beck
The beginning of the waterfalls on Aira beck
More waterfalls . . .
and yet more, all gushing rapidly after the previous heavy rainfall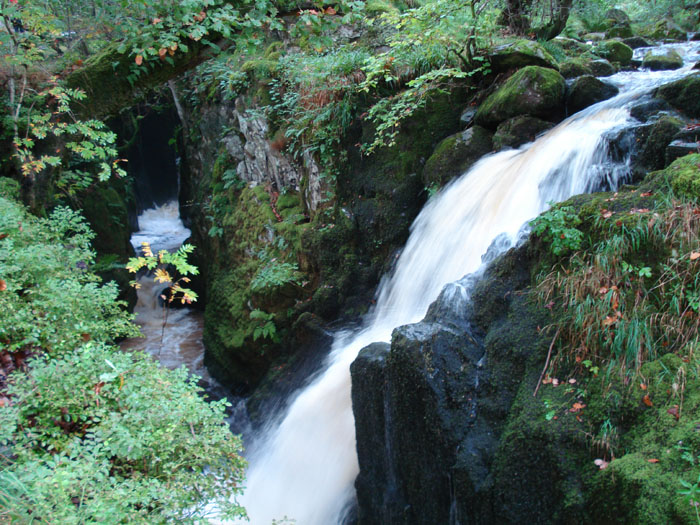 Just up from the high bridge another spectacular shot
and taken again, looking up the narrow chasm
Looking down from the high bridge
and another shot looking down
Looking up from the low bridge
Return to 2007 Diary Return to top