Sunday, 22nd April 2007
Walk:
Dockray, Clough Head, Great Dodd, Watson's Dodd, Stybarrow Dodd, Hart Side, Birkett Fell, Dockray
Start Point:
Dockray bridge
Grid Ref:
NY 393 215
Distance:
13 miles
Ascent:
3,000 feet
Weather:
A dull start with mist on the hills
Accompanied by:

Marie, John D, Phil, Ruth, Eric, Tess

Comments:
Wet to start with and thick mist by the time we reached Clough Head. The weather did brighten up as we descended from Birkett Fell
Scroll down to see photos of the walk
The weather is threatening to close in as we head along the Old Coach Road
Adjusting layers before we start the climb up to Clough Head - and the mist is creeping down the hillside
The mist seems to lift as we head towards White Pike
But by the time we stop it is raining and the mist is blowing around
Near the top and we can't see far
Nearly at the summit . . .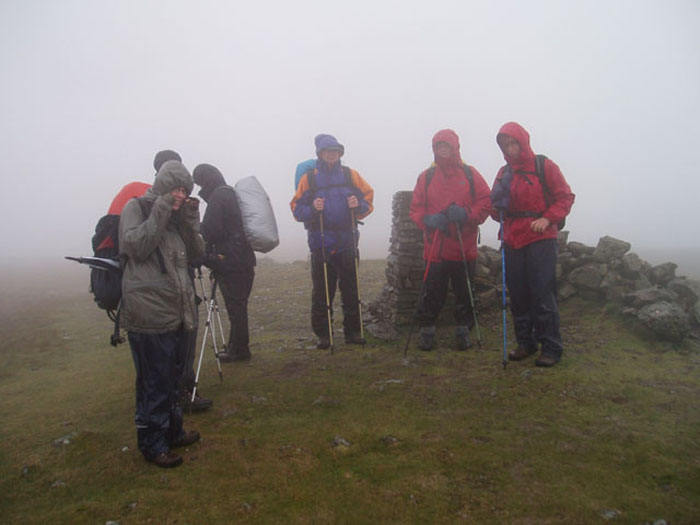 where we check the bearing for Great Dodd
The mist is even worse on Great Dodd - checking the bearing again
The mist is finally clearing as we descend from Birkett Fell . . .
but it is still in evidence over Ullswater . . .
whichever way you look
Almost back as Dockray draws nearer