Sunday, 23rd December 2007
Walk:
Tarn Hows, Glen Mary Bridge, Holme Fell, Hodge Close, Hollin Bank, Black Fell,(Black Crag), Tarn Hows
Start Point:
Tarn Hows main car park
Grid Ref:
SD 326 995
Distance:
7.5 miles
Ascent:
2,100 feet
Weather:
A heavy frost but misty and damp
Accompanied by:

Marie, Andrea, Gill and Shep, led by me

Comments:
The day had promised to be dry with a heavy frost but we travelled into mist as we approached the Lake District. The route onto and off Home Fell was not easy in the mist and I made good use of my GPS. The same was true, to an extent on Black Crag, known as Black Fell in Wainwright's book.
Scroll down to see photos of the walk
Shep contemplates carrying this stick (branch) but couldn't quite manage it
Holme Fell in mist . . .
which improves for the next shot
Marie is feeling rather cold at Hodge Close . . .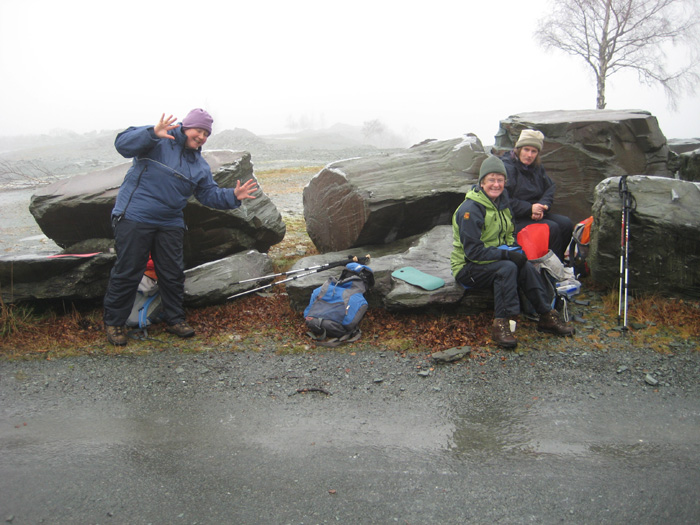 and Andrea keeps warm with a dance routine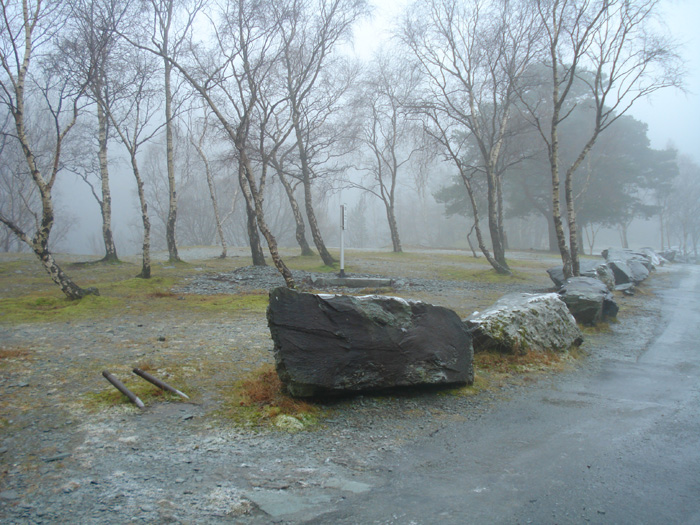 It's rather quiet here today, though we did see 2 couples . . .
and a robin came to visit . . .
but didn't stay for long
It looks pretty cold down there . . .
whatever angle you take
Shep finds another stick
Black Fell - and the mist is still around
and again . . .
and once more
Andrea decides to practise for Dancing on Ice . . .
so Marie decides to provide some competition
Even Tarn Hows is frozen today