Sunday, 30th September 2007
Walk:
Cartmel, Over Ridge, Bigland Barrow (OF), Bigland Tarn, Cumbria Coastal Way, Cistercian Way, Cartmel
Start Point:
Cartmel Priory
Grid Ref:
SD 379 787
Distance:
11 miles
Ascent:
1,500 feet
Weather:
A warm but rather cloudy day
Accompanied by:

Marie (recce lead by me)

Comments:
An easy walk with gentle ascents and varied terrain. Some fields, woods and road walking but mainly on fell paths. The Cumbrian Coastal Path and the Cistercian Way form part of the walk. The path through the forest was very muddy and we had to sidetrack to find drier ground.
Scroll down to see photos of the walk
Haverthwaite Railway Station on the left, with stationary carriages on the Haverthwaite to Lakeside line
Looking South-east from the wartime lookout, and on the right the willow tree mentioned in Wainwright's Outlying Fells guide book
The unnamed tarn surrounded by vigorously growing bracken - no fishermen today
Bigland Tarn in the grounds of Bigland Hall, which is an equestrian centre
Bigland Tarn - again
Levens viaduct from the Cumbria Coastal path
Beautiful Autumn colours
'Turnip treat' time for the local sheep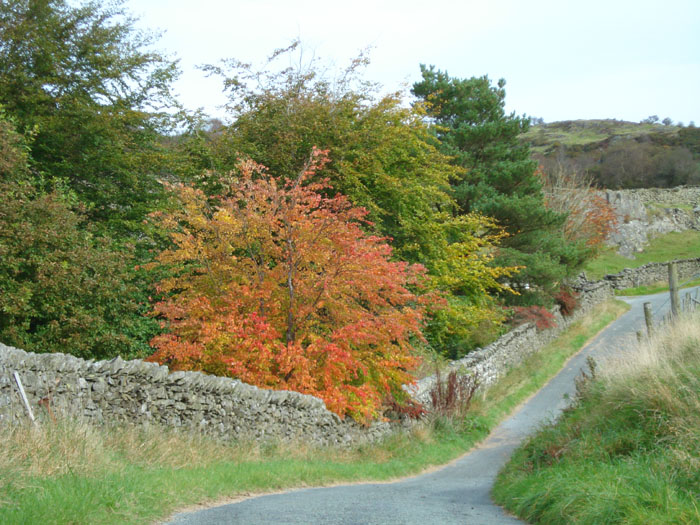 Another view of the tree in splendid array