Sunday, 11th May 2008
Walk:
Kentmere, Garburn Pass, Yoke, Ill Bell, Froswick, Thornthwaite Crag, Mardale Ill Bell, Nan Bield Pass, Harter Fell, Kentmere Pike, Shipman Knotts, Green Quarter
Start Point:
Kentmere - farmer's field, open at weekends
Grid Ref:
NY 458 039
Distance:
13.5 miles
Ascent:
3,450 feet
Weather:
Initially warm and dry but some thunderstorms and rain later in the day
Accompanied by:

Marie (leader), Andrea, Gill and Shep

Comments:
After we had reached the Garburn Pass the route was quite busy with people coming from different directions. As we walked over Yoke, Ill Bell and Froswick it was sunny, with little wind. Thornthwaite Crag was busy, as usual, and from there we headed down to Mardale Ill Bell. By the time we reached Nan Bield Pass the weather had closed in over Haweswater and we could see that some thunder and lightning was on its way. We continued up to Harter Fell and on to Kentmere Pike as the thunder and lightning reached us. Fortunately the weather then improved and we were dry by the time we got back to the car.
Scroll down to see photos of the walk
Looking back over Kentmere it is warm but rather hazy in the distance
Heading up to Yoke Shep has found the 'mandatory' stick . . .
but enjoys posing with Gill and Andrea at the summit
Marie takes her turn . . .
followed by myself
Kentmere Reservoir comes into view but it is still rather hazy
Ill Bell has three cairns . . .
but the middle one is the highest . . .
so we had elevenses nearby
A choice of 2 paths on the way to Froswick, with Thornthwaite Crag on the left
We chose the higher path . . .
to the summit . . .
where we posed again . . .
and again - with Thornthwaite Crag on the horizon
The route down from Ill Bell looks quite impressive
Last time I was here you could only just see the beacon because it was so misty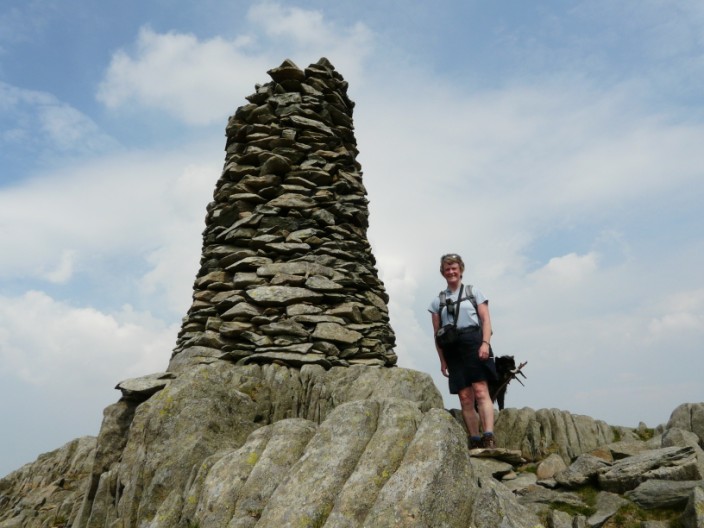 Now I can't decide . . .
which is the best side . . .
for our photocall
We leave by the path to High Street - but we'll keep that one for another day
On the way to Mardale Ill Bell we can see the three tops of Yoke, Ill Bell and Froswick
Mardale Ill Bell . . .
and again . . .
and once more
Small Water and Haweswater - with some weather coming in
The path down to Kentmere from the Nan Bield Pass
The shelter on Nan Bield Pass - but I couldn't catch the lightning!!
A couple of years ago this shelter was a refuge from the very strong winds before we headed down to Kentmere
The sun catches the hillside across from The Rigg . . .
and touches on Eagle, Heron and Swine Crags
Andrea and Gill appearing as if from Small Water
Harter Fell
Kentmere Pike . . .
after the rain had started
Shipman Knotts