Wednesday, 12th November 2008
Walk:
Clapham, Clapdale, Trow Gill, Gaping gill, Little Ingleborough, Ingleborough, Simon Fell Breast, Sulber Gate, Long Scar, Encomb Bridge
Start Point:
Clapham, beside river
Grid Ref:
SD 745 601
Distance:
12 miles
Ascent:
2,200 feet
Weather:
Sunny for much of the day with a cool breeze
Accompanied by:

Marie (recce for next programme)

Comments:
Heading North out of the village we followed an easy track to Clapdale Farm and down to the side of the beck. After passing Ingleborough cave and Beck Head we turned into Trow Gill, eventually climbing out onto the open fell. Before long we detoured to inspect Gaping Gill - a big, big hole! From here it was a steady climb up to Little Ingleborough and on to the summit trig point and shelter. From here we had good views of Twisleton Scars, Whernside and Ribble Head viaduct. Heading East from the shelter we found the path leading down to Simon Fell and took the right fork to Simon Fell Breast. Continuing on to Sulber, we turned off to Sulber Gate. A pleasant green path took us over Long Scar and on to Long Lane, from where we could see Trow Gill and the beginning of the walk.
Scroll down to see photos of the walk
Clapham beck
Pheasant
Weir
Ingleborough Cave
Beck Head
The bridge at beck head has an unusually shaped arch
Heading up Trow Gill we begin to see the head of the gill . . .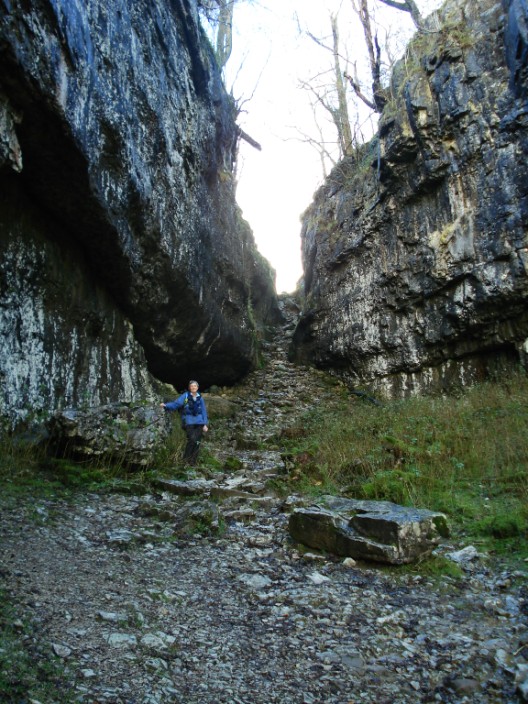 and Marie provides some perspective . . .
with myself following suit
Looking back down the gill
Our first glimpse of Gaping Gill . . .
and we head down past Fell Beck . . .
to see where the water disappears . . .
360 feet into the main chamber . . .
which is the biggest known cave chamber in Britain
A final look back at Gaping Gill . . .
and the information board
Ingleborough summit trig point . . .
and me!
From the summit we have a good view of Whernside . . .
Ribblehead viaduct . . .
and Twisleton Scars
We head back to the shelter to take our bearing off the summit
From Sulber Gate Moughton Scars are in view . . .
with Pen-y-Ghent in the distance
Do people really bring cars and motor bikes up here?
From Long Lane we can trace the beginning of the walk, including the show cave