Sunday, 12th October 2008
Walk:
Patterdale, Arnison Crag, Trough Head, Birks, St Sunday Crag, Deepdale Hause, Grisedale Tarn, Grisedale Valley
Start Point:
Car park opposite Patterdale Hotel
Grid Ref:
NY 360 159
Distance:
9.3 miles
Ascent:
3,100 feet
Weather:
6 hours
Accompanied by:

John D (leader), Karen, Ian, Marie, Ray, John L, Lesley

Comments:
The forecast had been promising but it was rather overcast as we started the walk. There was little respite on the way up to Arnison Crag but we were rewarded with some good views of Ullswater. An indistinct path took us to Trough Head and the steep climb to Birks, by which time the mist was closing in. A cold wind had joined the mist by the time we reached St Sunday Crag and we were pleased when it was time to head down to Grisedale Tarn, gaining some shelter from the flanks of Cofa Pike. It was then a 4 miles trek down the valley back to Patterdale but, thankfully, we soon dropped out of the mist and were able to get some decent views.
Scroll down to see photos of the walk
We should have been doing Gowbarrow Fell today - we might have got some sun
Finally on Arnison Crag with Ullswater in the background
Rays of sun highlight Hartsop
After descending to Trough Head . . .
it is time for elevenses before . . .
commencing the climb up to Birks - and this is only the start!
I manage to get a photo . . .
before the mist starts to close in
By the time we reach St Sunday Crag it is cold as well as misty . . .
and windy too!
Time for a quick photo on the summit . . .
Ian thinks the cairn needs another rock
Once we leave Deepdale Hause we are sheltered from the wind as we traverse across to Grisedale Tarn . . .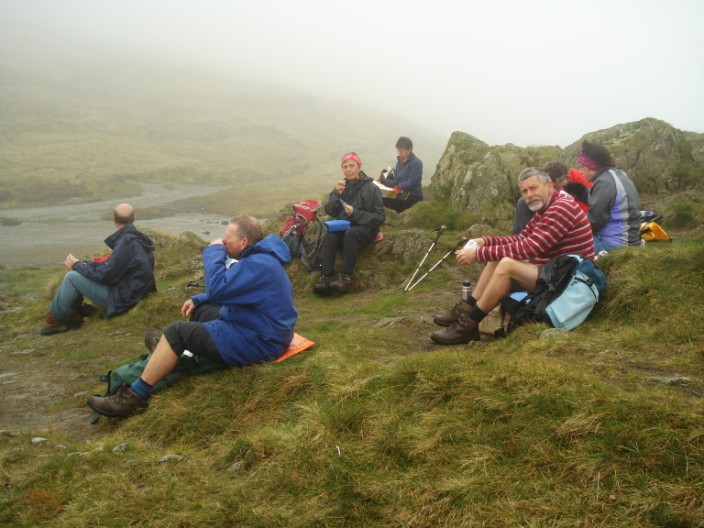 where we stop for lunch . . .
but see very little of the tarn
A Dunlin searches for is dinner . . .
and Ray grabs a close up shot
The mist clears as we head down the valley . . .
and check out Ruthwaite Lodge . . .
with its memorial plaque
The water cascades down Ruthwaite Cove . . .
and just to the left of centre there is a mine tunnel . . .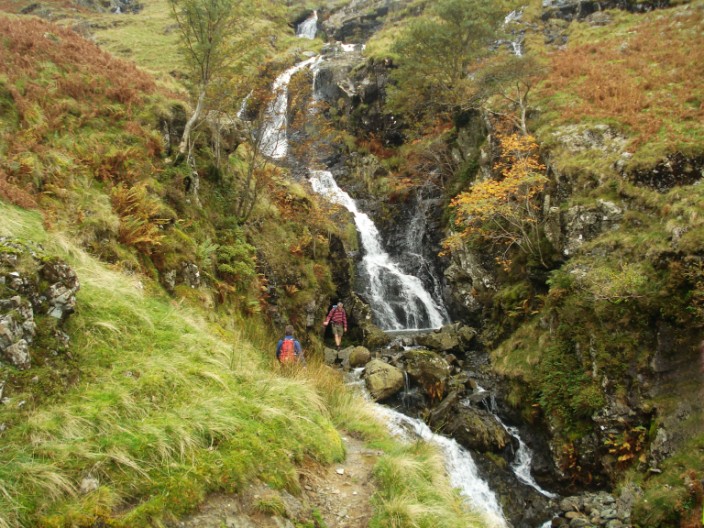 which Ian and Lesley explore
Anyone for a spot of canyoning?
Continuing down the valley . . .
the leading group crosses the bridge . . .
followed by the 'stragglers'
A couple of rock climbers try out a route on Thornhow Crag
The Autumn colour is starting to show itself
Hope the water isn't too deep John!