Sunday, 13th January 2008
Walk:
Car park, Deerstones, Spence Moor, Fell Wood, Upper Ogden Reservoir, Ogden Clough, Big End, Pendle Hill, Scout Cairn, car park
Start Point:
First car park outside Sabden
Grid Ref:
SD 776 385
Distance:
11.5 miles
Ascent:
2,100 feet
Weather:
A dull and windy start with rain and mist later. Very windy on top.
Accompanied by:

John L (leader), Ray, Mandy, Eric, Sheila, Garry

Comments:
After earlier forecasts we were pleased to find we had a dry start and enjoyed the 'easy ascent' to Deerstones. A detour over Spence Moor avoided the really boggy bits but the walk up Ogden Clough was pretty muddy. We climbed into mist as we left the clough and didn't come out of mist till we were approaching the Scout Cairn. We then had a pleasant walk down to the car park, passing an interesting bench on the way.
Scroll down to see photos of the walk
A brief pause shortly after the start on a dull and windy day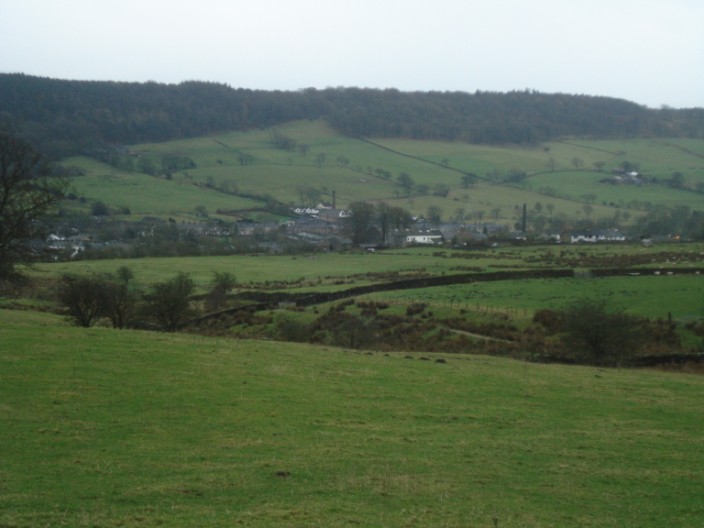 Looking back down to Sabden . . .
and across to Churn Clough reservoir
From Spence Moor we can see Lower Ogden reservoir and Fell Wood - with its own mist cloud
The view of Pendle Big End provides . . .
a good backdrop for a group shot
The wall by Fell Wood provides some shelter from the wind
Dropping down towards Lower Ogden reservoir . . .
and the bridge we crossed (no Trolls today!)
Two sluice gates control the low of water from . . .
Upper Ogden reservoir
A close up of the water course . . .
and overflow from . . .
the higher reservoir
Eric pauses for a moment's contemplation . . .
whilst the rest of the group continues up Ogden Clough
Sheila and Ray test out the depth of the water . . .
followed by Mandy and Eric . . .
whilst the rest of the group lend their 'support'
A sharp drop into the clough - I thought John said all the ascents were gradual!
By the time we reach the flagged path the mist has closed in
but Garry manages to find the trig point on Big End . . .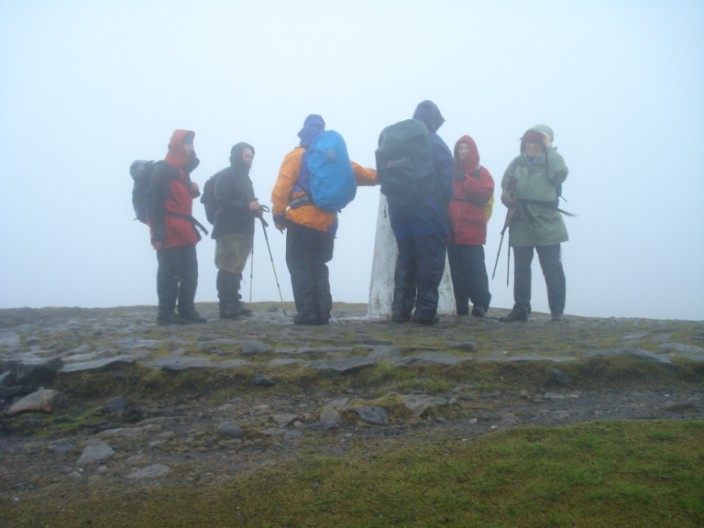 and the rest of the group follows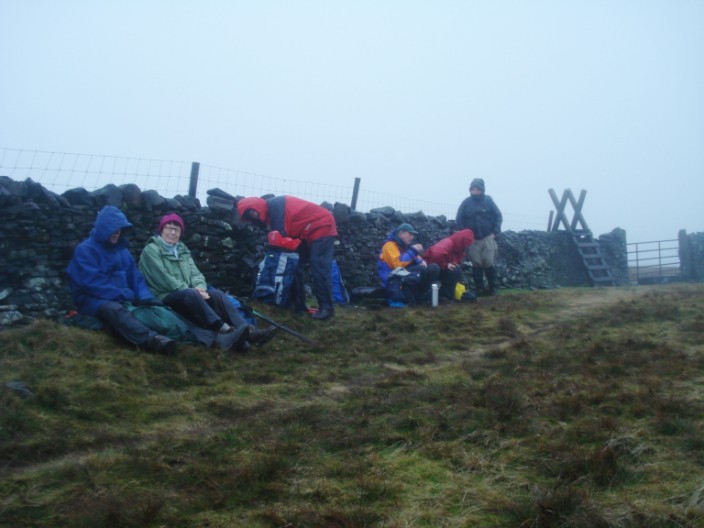 The wall provides some shelter from the wind but - no view today . . .
until we reach the Scout Cairn - too windy to get a clear photo
Back on the main path - but who is standing next to John?
A close up gives you a clue (answers on a postcard please!)
I couldn't resist this bench on the way back to the car - but what has Ray found?
a rather soggy fungus!