Wednesday, 16th January 2008
Walk:
Staveley, Barley Bridge, Brunt Knott, Ulgraves, Gurnal Dubs, Potter Tarn, Staveley Park, Staveley
Start Point:
Staveley car park
Grid Ref:
SD 470 987
Distance:
10 miles
Ascent:
2,200 feet
Weather:
Dull and damp initially with sunny spells later
Accompanied by:

Marie

Comments:
Recce for a group walk, checking access to the Outlying fells. The initial light shower soon cleared but it was quite windy when we reached Brunt Knott. We walked back towards the wall to find a stile over a fence that isn't marked on the map. We picked up a path from the stile until we reached the wall. We followed the wall round until we had nearly reached Gurnal Dubs and turned off the path to head towards Ulgraves. There were some very good views of Longsleddale from the trig point. We retraced our steps to the stile and walked round the North edge of the tarn. After following the route past Potter Tarn we turned South to walk past Side House and through Staveley Park.
Scroll down to see photos of the walk
The weir at Barley Bridge on the North edge of Staveley
Looking past Ghyll Bank to the Brunt Knott fells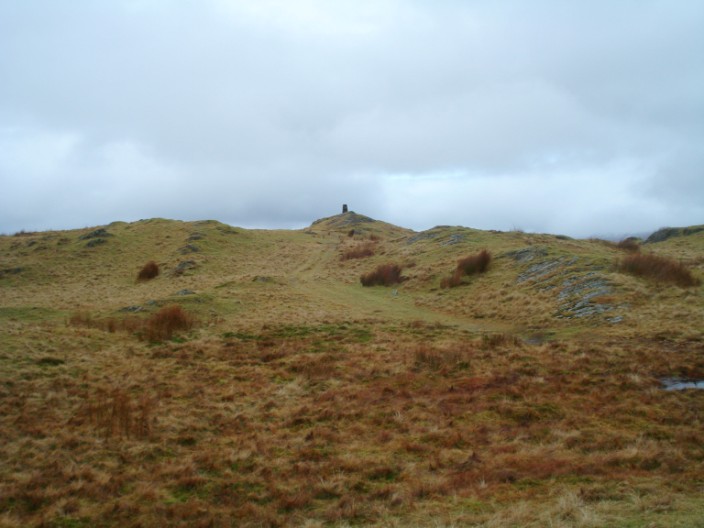 A first glimpse of Brunt Knott . . .
getting closer . . .
and closer
Brunt Knott with Yoke, Ill Bell and Froswick just visible on the right
and again for Marie
The sun shines on Ulgraves, with the Whin Fell ridge behind . . .
and looking to the top of Longsleddale
Ulgraves & Longsleddale - and Marie of course
Standing on the edge - Longsleddale on the left
Time to have fun
Zooming in on Longsleddale
Heading down to Gurnal Dubs originally two natural tarns, formed into one by damming
Looking back over Gurnal Dubs
and again - Gurnal Dubs, Potter Tarn and Ghyll Pool are used as reservoirs to
supply the large paper mill of James Cropper & Co. Ltd. at Burneside
Potter Tarn, entirely artificial - note the walls running into the tarn
Waterfall at Side House
and again
Stile in Staveley Park - with the luxury of handrails
Information board in Staveley
St Margaret's Tower