Sunday, 16th November 2008
Walk:
Horton-in-Ribblesdale, Brackenbottom, Pen-y-Ghent, Plover Hill, Foxup Moor, Hull Pot
Start Point:
Horton Bridge
Grid Ref:
SD 811 720
Distance:
9.3 miles
Ascent:
2,000 feet
Weather:
A dry and mainly sunny day with a cold wind on the ridge.
Accompanied by:

Marie and 11 other members of the group

Comments:
Leaving the village we passed through the small hamlet of Brackenbottom to start the ascent which grew increasingly steep and rocky with excellent views across to the smooth outline of Fountains Fell. The view from the summit was superb with Ingleborough and Whernside dominating the landscape. The route continued along the ridge (unfortunately on the unsheltered side of the wall) joining Pen-y-Ghent with Plover Hill which was quite wet and boggy in places. The descent from Plover Hill started off quite gently before reaching a short but very steep section to Foxup Moor and down to a clear path to start the return journey back to Horton-in-Ribblesdale. The walk along the valley was easy going on a nice, grassy path with excellent views up to Pen-y-Ghent on the left. The magnificent chasm of Hull Pot which was thoroughly investigated by all concerned and cameras were working overtime. From Hull Pot we rejoined the main path which took us back safely to Horton-on-Ribblesdale.
Scroll down to see photos of the walk
Pen-y-Ghent can be clearly seen from the car park
Leaving Brackenbottom we begin our ascent on soft grassy footpaths . . .
which are interspersed with some rockier sections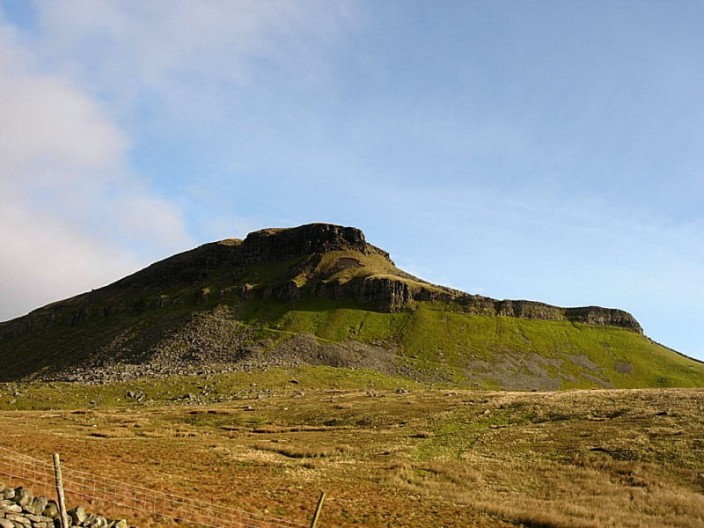 The escarpment is highlighted by sun and shadow . . .
whilst the opposite end of the ridge is under cloud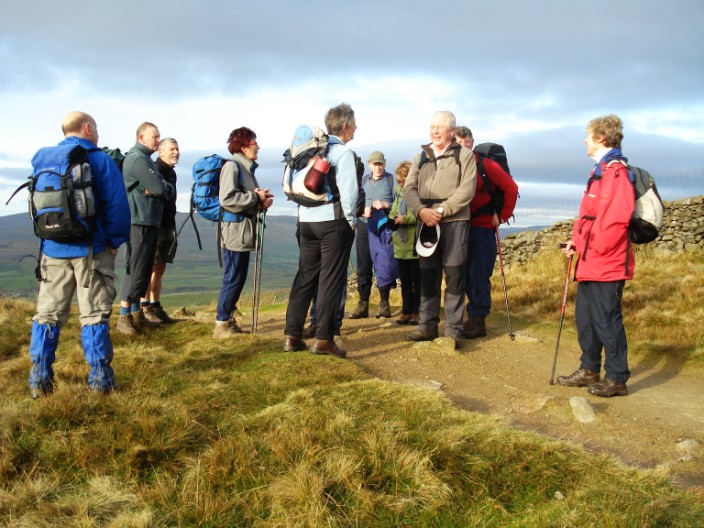 A brief pause on the way up . . .
before we reach the Pennine Way . . .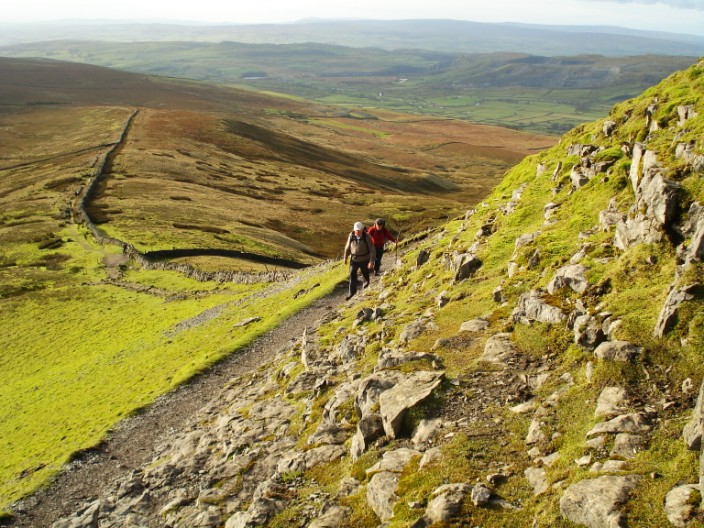 which climbs up the side of Pen-y-Ghent . . .
with some rocky sections
Elevenses is taken at the summit . . .
with the wall giving shelter from the cold wind
Crossing the ridge we have a good view of Ingleborough
The cairn on Plover Hill is nothing to shout about but the views are great . . .
with Whernside to the right of the Ribblehead viaduct
Don't get too close, John, or you may disappear with the water!
Marie and Rob inspect the beck flowing into Hull Pot . . .
which is a VERY big hole . . .
Ray and Ian get a close up look . . .
and the sun does us proud for a group shot . . .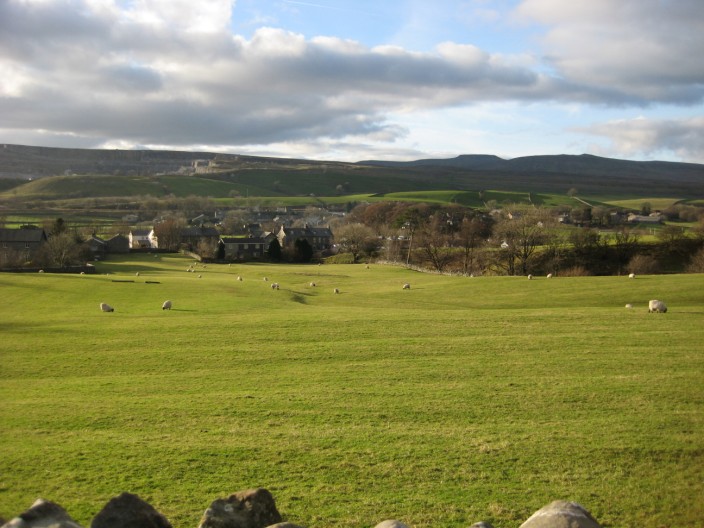 before returning to Horton-in-Ribblesdale