Saturday, 17th May 2008
Walk:
Moor Howe, Dubbs Road, Sour Howes, Moor Head, Sallows, Kentmere Park, Mickle Moss, High Borrans, Moor Howe
Start Point:
Moor Howe
Grid Ref:
NY 423 006
Distance:
8 miles
Ascent:
1,400 feet
Weather:
Sunny spells but a cold breeze
Accompanied by:

Joseph & Beth

Comments:
A lot of work has been done on Dubbs Road to eliminate the puddles encountered last year. Someone had added four rocks to form a cairn since I was last on Sour Howes and Sallows has a cairn made up of two rocks. The children really got into their stride between Sour Howes and Sallows and enjoyed the grassy path across Kentmere Park. They spent a little time crossing and re-crossing the ford South-west of Whiteside End - just for the fun of it!
Scroll down to see photos of the walk
Looking over Troutbeck and Limefitt caravan park to Wansfell Pike and Baystones . . .
Joseph and Beth decide it is a good place to pose
My, what a big stile!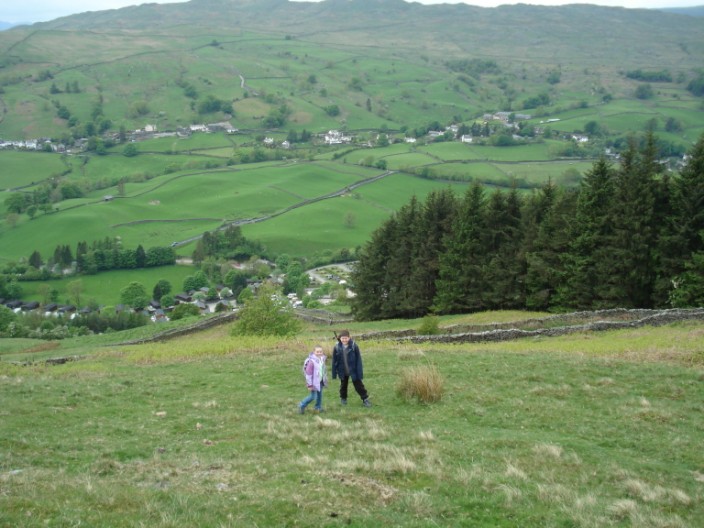 The initial climb is quite steep . . .
so we need a rest when we get to the stile
Is that really a cairn?
A few stones mark Sour Howes
The path to Yoke
Joseph celebrates on Sallows . . .
then he and Beth look for more rocks for the 'cairn'
That's our fifth Wainwright
Beth found a sheltered spot for lunch . . .
but it is soon time to move on
The ford provides a great spot . . .
to find lots of different ways . . .
of crossing over the stream . . .
and back again . . .
while Joseph builds a dam . . .
and helps Beth get past . . .
but she hasn't finished yet . . .
and neither has Joseph . . .
but these rocks need . . .
a bit of help to balance on . . .
so Joseph provides a helping hand
Kentmere is a mecca for cyclists . . .
and we saw lots of them on this path
The lambs peep over the banking
The bluebells are in full flower in the woodland area . . .
and on the banking
The children put on a last spurt back to the car