Sunday, 19th October 2008
Walk:
Old Dungeon Ghyll Hotel, The Band, Bow Fell, Ore Gap, Angle Tarn, Rossett Pike, Mickleden
Start Point:
Old Dungeon Ghyll Hotel car park
Grid Ref:
NY 286 061
Distance:
9 miles
Ascent:
3,000 feet
Weather:
A dull start followed by drizzle then very strong wind and heavy rain
Accompanied by:

John L (leader), Ray, Gary, Steve, Marie, Lesley

Comments:
The weather forecast was for very strong wind and heavy rain arriving in the afternoon. As we made our way up The Band to Three Tarns the wind was already becoming strong but we decided to continue until the weather made it too difficult. We eventually reached Bow Fell but the wind was very strong on the summit. By the time we reached Ore Gap it was decided prudent to cut the walk short and head down to Angle Tarn. After a quick detour to Rossett Pike we headed down Rossett Ghyll and heavy rain accompanied back to the cars.
Scroll down to see photos of the walk
Heading towards the 'never-ending' Band
Pike O' Stickle looms above us on the right
A 'happy band of walkers' with Great Langdale in the background
Is that a smile on Bow Fell, or a grimace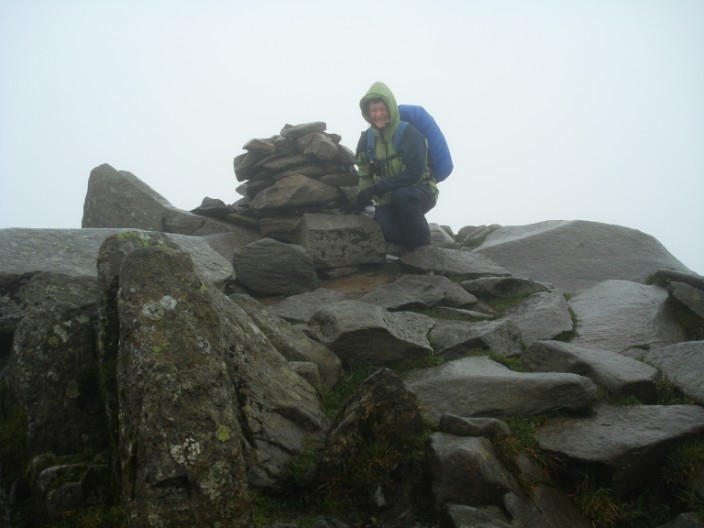 It's pretty (or should I say VERY) windy up here
Heading down to Angle Tarn with Rossett Pike behind
To the left of Rossett Pike we can see Loft Crag, Pike O' Stickle and Harrison Stickle, plus Sergeant Man over on the left
Angle Tarn was a reasonably sheltered spot for lunch
Eagle Crag and Sergeant Crag stand in the gap whilst Ullscarf rises up behind them
The weather starts to close in on Rossett Pike
A brief gap in the heavy rain - and water gushes down Mickleden Beck