Sunday, 1st June 2008
Walk:
Armboth, Armboth Fell, High Tove, High Seat, Bleaberry Fell, Walla Crag, Nest Brow, Dale Bottom, Thirlmere
Start Point:
Lay-by 0.6 mls North of Armboth car park
Grid Ref:
NY 306 181
Distance:
11.5 miles
Ascent:
2,200 feet
Weather:
Overcast initially with rain and mist later
Accompanied by:

Marie, Andrea, Gill and Shep

Comments:
Walking South to Armboth car park we discovered that new seats had been installed and the parking meter had it's own little enclosure! The paths from the plantation to Armboth Fell and High Tove were much clearer than when I did this route a couple of years ago. Heading North we gave The Pewits a wide berth before continuing on to High Seat and Bleaberry Fell. On dry ground at last we descended to Walla Crag, always a popular spot. After reaching the A591, via Rakefoot, we left the road just after Low Nest to avoid more road walking than was necessary. As time was getting on and Raven Crag was in mist we decided to take a more direct route back to the car, following the forest track past Shoulthwaite Moss and Smaithwaite Banks.
Scroll down to see photos of the walk
Newly installed seats and even a shelter for the car park meter at Armboth car park
Heading up to Armboth Fell
Someone has assembled a small cairn on Armboth Fell
Armboth Fell with High Tove to the right
High Tove with High Seat in the distance to the left - and The Pewits in between!
High Seat
Gill and Andrea look for shelter on Bleaberry Fell
We finally get some views from Walla Crag
Walla Crag . . .
and again
Near Castlerigg Farm we find a calf that looks only a couple of days old . . .
so we take more photos . . .
and more . . .
yet more . . .
still more . . .
keeping a careful eye on Mum . . .
before we decide . . .
it really is time to move on
Commemoration stone at the Northern end of Thirlmere
Some good views of Thirlmere at last . . .
and another . . .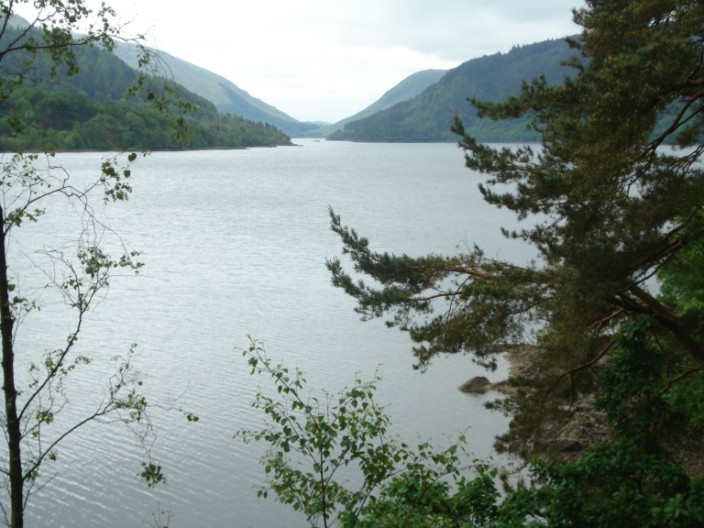 and just one more