Sunday, 20th April 2008
Walk:
Lonscale Fell, Jenkin Hill, Skiddaw Little Man, Skiddaw, Bakestall, Whitewater Dash, Great Calva, Skiddaw House, Glenderaterra Valley
Start Point:
Latrigg car park
Grid Ref:
NY 281 253
Distance:
13.8 miles
Ascent:
3,800 feet
Weather:
A cold and very windy day with snow on the North side of Skiddaw
Accompanied by:

John D (leader), Phil, Eric, Marie, Tony, Tony, Keith, Debbie, Malcolm, John L

Comments:
We started up the tourist path but before too long diverted off to climb Lonscale Fell. By the time we reached Skiddaw Little Man the wind was quite strong. Descending the North side of Skiddaw was made easier with the depth of snow as we could romp down quite safely. After lunch at Whitewater Dash we decided to add a detour to Great Calva. This was longer and with more ascent than we had hoped. Then it was a simple trek back down to Skiddaw House and along the Glenderaterra Valley.
Scroll down to see photos of the walk
Heading up the 'tourist path' from the car park near Latrigg can become quite boring . . .
but before too long we turn off to climb Lonscale Fell
As we navigate the gate Jenkin Hill and Skiddaw Little Man appear in the distance . . .
with a snow covered Skiddaw to their right
The sun makes an appearance as we reach Lonscale Fell so . . .
Marie and I make the most of the photographic opportunity
The next summit worth a photo is Skiddaw Little Man . . .
with a hazy Derwent Water in the background
The sun comes out again as we pass Ullock Pike and Longside Edge to our left . . .
before heading up to the summit . . .
with its shelter . . .
trig point . . .
and topograph
Then it's down through the snow - anyone got a sledge? . . .
with a quick look back at the summit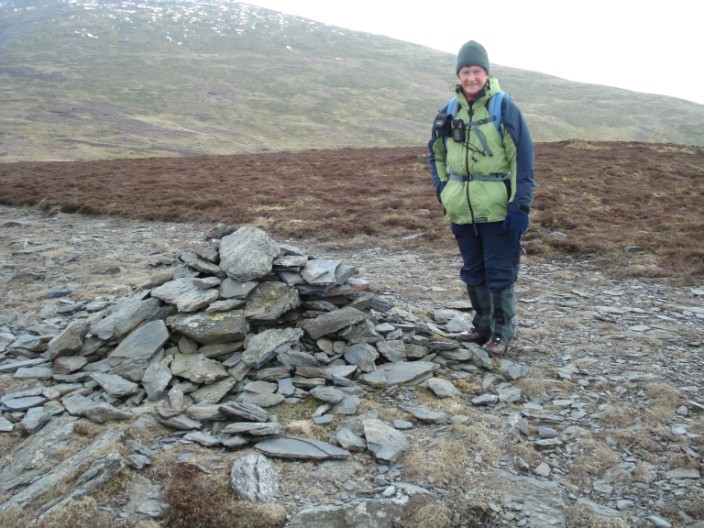 Bakestall is our next photo stop . . .
with its views back to the summit . . .
before descending to Whitewater Dash . . .
a perfect lunch spot
I think I'll stick to 2 feet on the hills
A diversion to Great Calva . . .
made for a long hard slog to the summit . . .
and a long way back down . . .
to Skiddaw House . . .
where we rejoin those who hadn't opted for the extra climb
Following the Cumbria Way down the Glenderaterra Valley we can see Great Calva to the North . . .
and the Central fells (in the haze) to the South . . .
before making our way across to Whit Beck and the car park