Wednesday, 20th August 2008
Walk:
Glenridding, Howtown (via ferry), Hallin Fell, Sleet Fell, Place Fell, Patterdale
Start Point:
Patterdale Hotel car park
Grid Ref:
NY 395 159
Distance:
8.6 miles
Ascent:
2,700 feet
Weather:
Cloudy with sunny spells
Accompanied by:

Marie, Andrea, Gill and Shep

Comments:
After taking the ferry from Glenridding to Howtown we made our way up Hallin Fell on a wide green path. After heading back down the same way we continued on to Sandwick and up to Sleet Fell, which made a good spot for lunch. Making our way across the bulk of Place Fell we decided to detour via The Knight but this was a very boggy route. After visiting the summit cairn we followed the path down to Boredale Hause and back to Patterdale.
Scroll down to see photos of the walk
Heading out from the jetty the weather looks a little uncertain
Looking back to the jetty with Birks and St Sunday Crag behind
Lots of activity at the sailing club
Glenridding House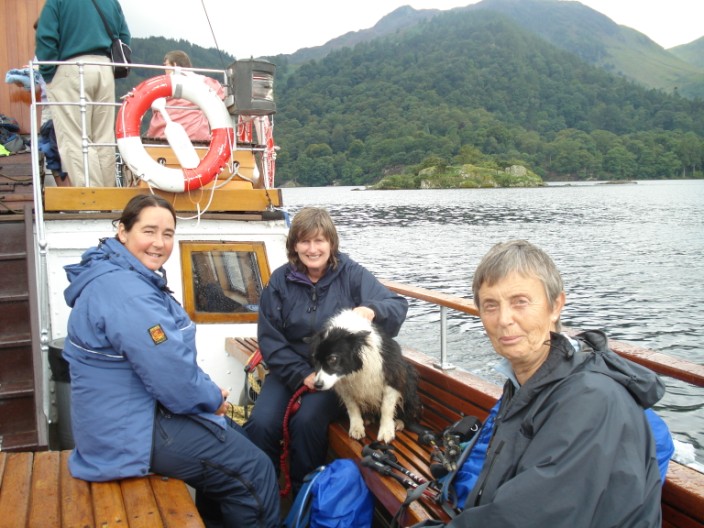 Shep is not very happy on the ferry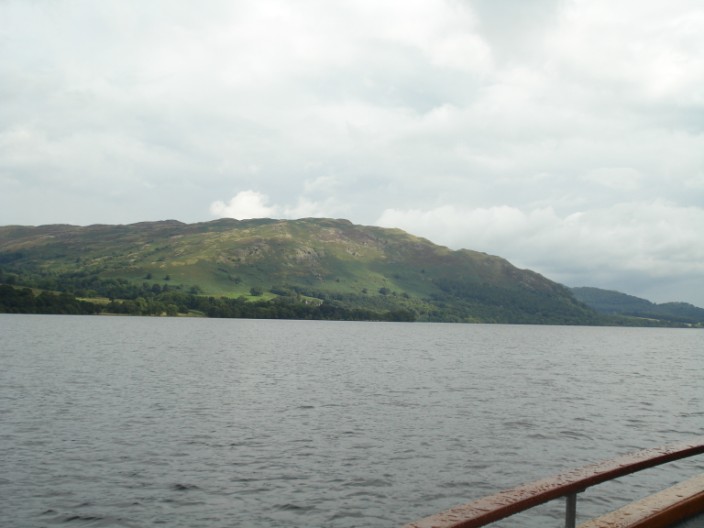 Gowbarrow Fell catches some sun
Place Fell - our return route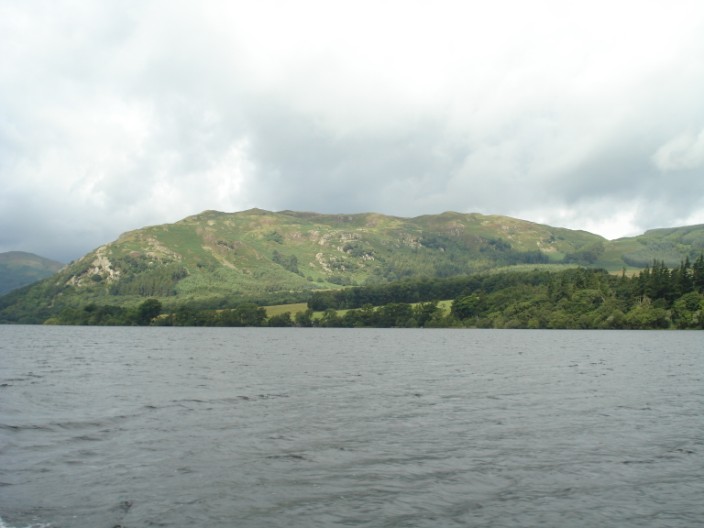 Steel Fell - our ascent onto Place Fell
Hope all these people are not going in our direction
The ferry continues on to Pooley Bridge
Gill and Andrea pose on Hallin Fell . . .
then we find a sheltered spot for elevenses
After climbing the end of Steel fell we have a good view back to Hallin Fell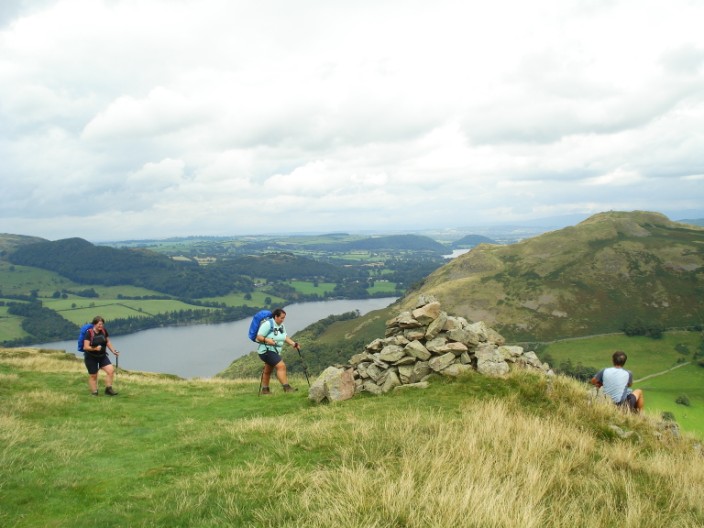 Andrea and Gill arrive as Marie settles down for lunch . . .
but Shep wonders what she has got in her bag?
The sun brightens our view of Ullswater as Hallin Fell retreats further into the distance
Approaching Place Fell summit Andrea admires the view . . .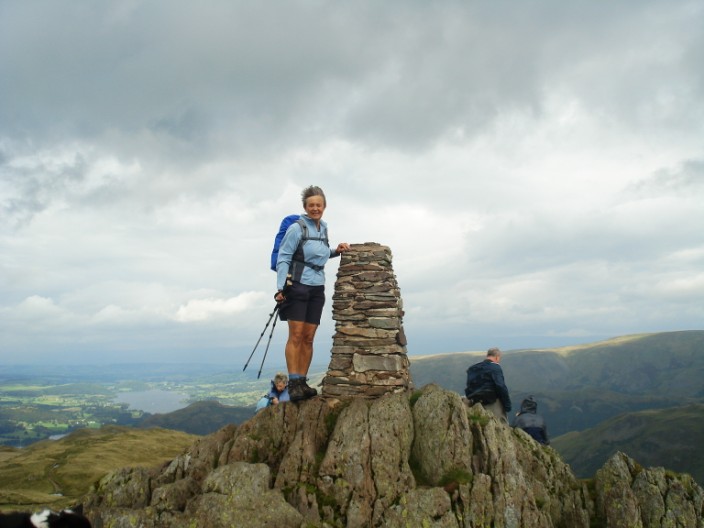 whilst Marie . . .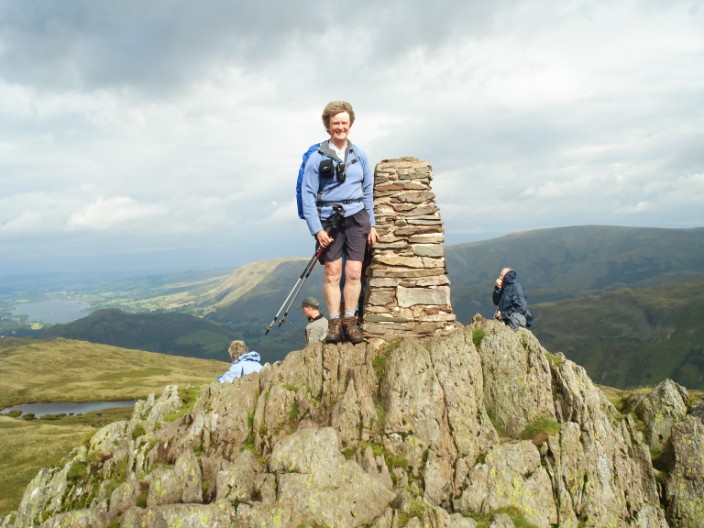 and Kath try to get photos 'without the crowds'!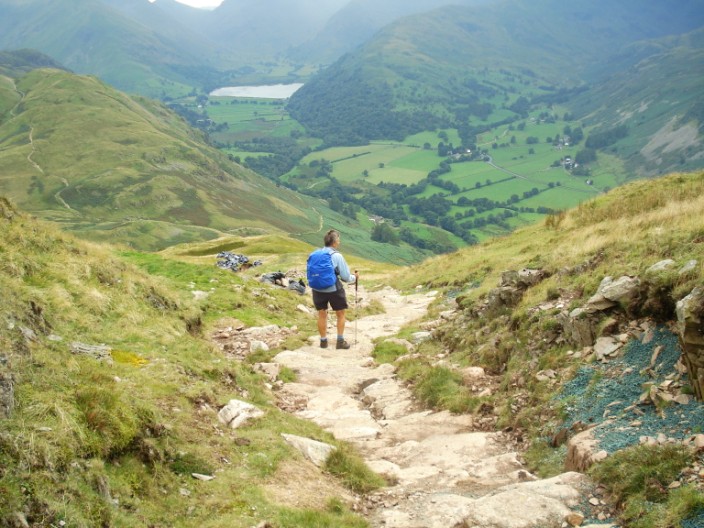 The route down to the hause has been stepped recently
Deepdale Valley heads up to the Fairfield Horseshoe
Coming down from the Hause, Ullswater comes back into view
Marie enjoys the sun near the end of the walk - hope she hasn't gone to sleep!