Sunday, 21st December 2008
Walk:
Scout Scar, Brigsteer, Underbarrow, Bell Hill, Cunswick Scar
Start Point:
Springs Wood car park
Grid Ref:
SD 488 924
Distance:
10.4 miles
Ascent:
2,240 feet
Weather:
Dry at first but very windy especially on the exposed parts of Scout Scar. Low cloud throughout the day with rain setting in late morning. Very wet conditions underfoot.
Accompanied by:

Phil (leader) and 10 other members of the group

Comments:
The day started well with a short climb to the topograph on Scout Scar. Walking along the escarpment we pleasantly surprised at the dry conditions underfoot in spite of the previous day's rain. With the distinct lack of mud at this stage we began to get suspicious about what was to come, especially as the leader remained non-committal! We were to find out soon enough as we headed back along the bottom of the scar to Barrowfield where we walked down through the woods towards Underbarrow. The section from Underbarrow to Bell Hill was very wet with deep standing water across several sections of the tracks (as shown on the photographs below). With the rain and drizzle now set in for the afternoon we made our way along Cunswick Scar and back to the cars where we quickly discarded the waterproofs and headed off to Carnforth for our Group Christmas Dinner.
Scroll down to see photos of the walk
The group is pleased to arrive at the topograph on Scout Scar . . .
but unfortunately there are no views to match up with the information
Even so, we pause to take in the views we can see . . .
along the escarpment to the North . . .
and to the South . . .
but the coast is barely visible through the cloud
The felled logs provide a good spot . . .
for our morning break
Anyone for a restoration project?
Marie makes short work of the squeeze stile . . .
but Phil takes a little longer . . .
and David doesn't know quite where to put his feet
As expected, there are some tricky places to navigate . . .
but Mandy is pleased that she doesn't end up in the water this time . . .
and the rest of the group make it through without getting wet feet . . .
and Ian leads the 'brolly brigade' past the next hazard
Time to take a layer off after all that work - but it rained for the rest of the walk!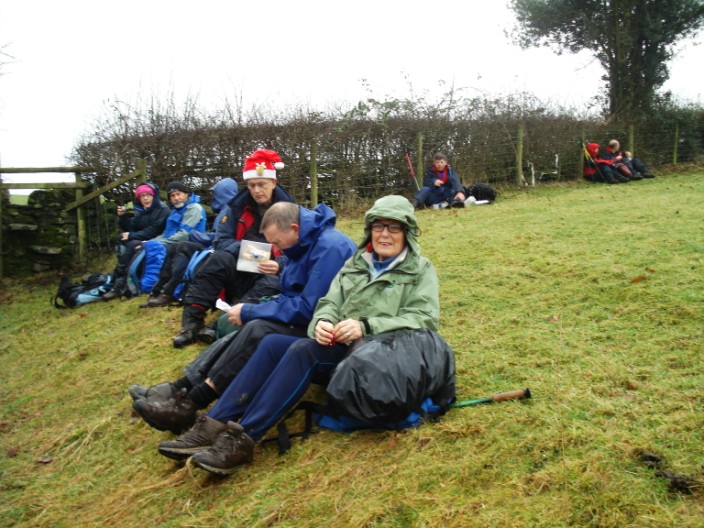 A hedge provides some shelter from the wind . . .
but Phil braves it out on the other side of the stile!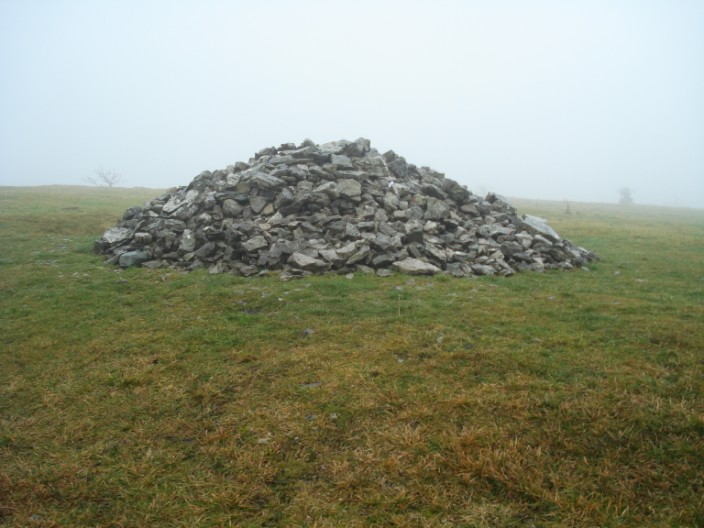 Cunswick Scar summit
Arriving early at the hotel . . .
we meet up with other members of the group . . .
for pre-dinner drinks
Time for musical chairs - no, just finding our allocated places . . .
and admiring the 'menu bookmarks' provided by Bill . . .
who seems to be having trouble with his Christmas hat