Sunday, 21st September 2008
Walk:
Stanah, White Side, Raise, Stybarrow Dodd, Watson's Dodd, Great Dodd, Calfhow Pike, Clough Head, Old Coach Road, High Rigg shoulder
Start Point:
Stanah Village Hall
Grid Ref:
NY 318 189
Distance:
14 miles
Ascent:
4,000 feet
Weather:
A broken covering of cloud allowing some sunshine at times
Accompanied by:

Marie, John D, John L (leader), Ray, Gary, Sheila, Keith, Debbie

Comments:
After taking the path across to Fisher Place Gill we started out on the Helvellyn Gill path but then turned to climb directly up the fell. After a short break at White Side it was a simple walk across the Dodds with their 'undulations'. Another stop at Watson's Dodd provided a good view whilst we ate lunch. Arriving at the shelter on Great Dodd we met a couple of dogs with panniers on their backs. They were quickly followed by a young couple each carrying a young child. Quite a family outing. After a brief pause on Clough Head we headed for White Pike and took a path dropping down to the left and so on to the Old Coach Road. We crossed over the valley road and, with the inevitable 'sting in the tail', climbed to the high path on the shoulder of High Rigg. It was then a simple 'stroll' back to the cars.
Scroll down to see photos of the walk
Waterfalls always attract the camera
The bridge over Sty Beck Fall looks pretty new
Yet another waterfall
The path begins to get steeper . . .
but before long we make our own way up the fellside
Brown Cove Crags with Helvellyn just out of view on the left
White Side with Swirral Edge and Striding Edge on the left and the path up to Lower Man on the right
Gary and John discuss the next part of the route
Marie checks out the cairn on Raise . . .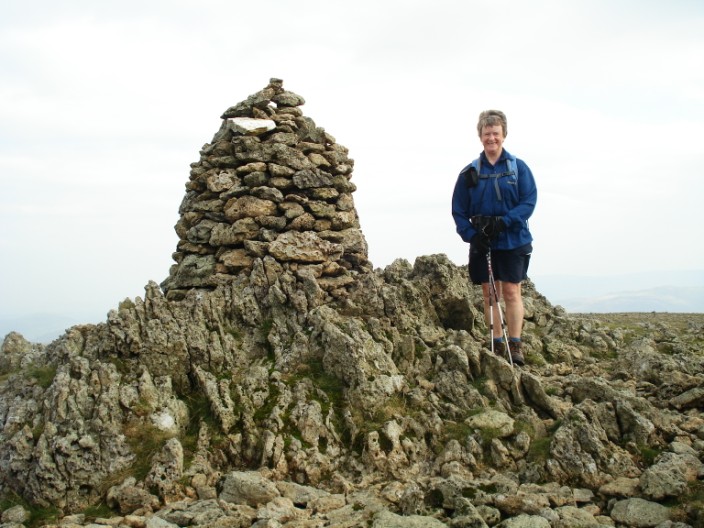 and I find a different spot to pose on
Where's the finishing line?
Stybarrow Dodd with its easily recognisable cairn
Watson's Dodd, left of centre, is just a grassy stroll away . . .
and our designated spot for lunch
The climb to Great Dodd is not bad from here . . .
and the group prepares to set off
These dogs were made for carrying . . .
but the parents have their own loads too
Great Dodd . . .
and again
Looking back to Helvellyn we see layer on layer of fells
A quick detour up Calfhow Pike . . .
before heading off to Clough Head
I'm sure John's eyes were shut a moment ago!
The last Wainwright of the day . . .
before heading down to the Old Coach Road
Return to 2008 Diary Return to top