Sunday, 22nd June 2008
Walk:
Great Gable walk - due to extreme weather conditions this walk was re-routed to a low level walk from Seathwaite along the Allerdale Ramble to Longthwaite and Rosthwaite then back to Seathwaite via the higher level path alongside Johnny Wood
Start Point:
Seathwaite
Grid Reference:
NY 235 122
Distance:
6.6 miles
Ascent:
900 feet
Weather:
Heavy rain and strong winds
Accompanied by:
John (leader), Marie, Ray, Ian, Karen
Comments:
On arriving at Seathwaite for the start of the walk the weather was gale force winds and rain. With Sourmilk Gill in all its splendour prudence (whoever she may be) directed that a high level walk would be foolhardy if not downright dangerous. So a low level walk was quickly worked out. The River Derwent was in spate and a fantastic sight. On reaching Yew Tree Farm 7 walkers invaded the café (Bill would have been proud of us). After coffees, pints of tea, bacon barmcakes, scones and carrot cake we valiantly set forth only to find that the Derwent had broken its bank and further progress was impossible. So we beat a hasty retreat to the cars and dry clothes, and an early finish.
Scroll down to see photos for this walk
Sourmilk Gill taken from the car at the end of the walk - this would have been our route up to Base brown
Seathwaite Slabs
The river roars under the bridge
No elevenses on the hills today so we opt for the 'local cafe' . . .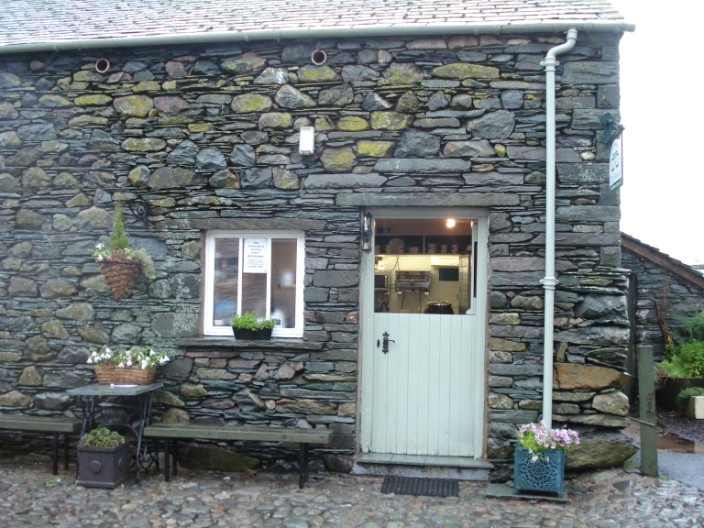 which was a welcome haven from the wind and rain!
The car park near the toilets - anyone for a swim?