Sunday, 23rd March 2008
Walk:
Leighton Moss, Yealand Storrs, Limestone Link, Fairy Steps, Arnside, Arnside Knott and Arnside Tower
Start Point:
Roadside by Leighton Moss Reserve
Grid Ref:
SD 478 751
Distance:
12.3 miles
Ascent:
2,500 feet
Weather:
With a forecast for cold wintry showers we expected the worst. It turned out to be a cold day with some sunshine but no snow.
Accompanied by:

John L (leader), Betsy, Ray, Mandy, Marie, Sheila

Comments:
We started by walking through Leighton Moss, then paths for Yealand Storrs and Fell Foot caravan site. This leads to paths through woods which incorporate the Limestone Links path and the Fairy Steps. We continued on to Arnside for lunch then Arnside Knott and Arnside Tower. The last leg was around King William's Hill and the golf course.
Scroll down to see photos of the walk
Time for elevenses - room for 3 on the wall stile . . .
and a sunny log provides seating for the rest of the group
The Limestone Link footpath snakes through the woods
and heads down the Fairy Steps (the Fairies will grant your wish if you don't touch the sides)
Everyone is keen to have a go . . .
and this 'cascade of ramblers' look pretty pleased with themselves . . .
but John and Marie forgot to avoid touching the sides!
The tower provides a novel garden feature
The railway viaduct from Arnside to Grange looks pretty quiet . . .
but by the time we had finished lunch . . .
we saw (and heard) the train on its way across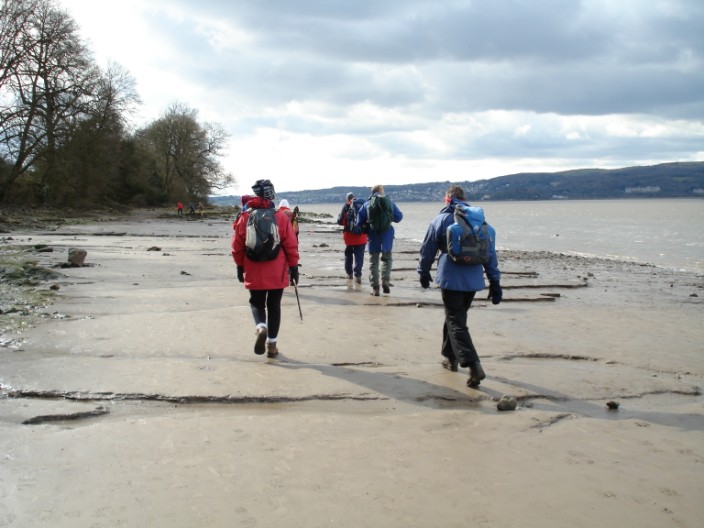 No sandcastles on the 'beach' today
Time to prepare for a climb as Betsy adjusts her trekking poles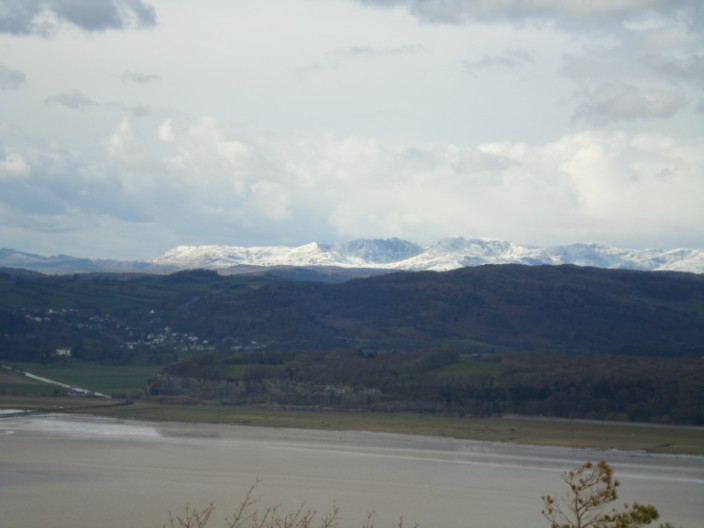 The lookout on the side of Arnside Knott is a good vantage point to name the fells
but after some discussion about which is which . . .
Ray, John and Marie consult the topograph
With a covering of snow the hills stand out clearly today
After passing Arnside Tower . . .
we find a field of frolicking lambs . . .
and Mum shows off her offspring