Sunday, 27th April 2008
Walk:
Hartsop. Hayeswater Gill, Gray Crag, Thornthwaite Crag, High Street, The Knott, Satura Crag, Angletarn, Angletarn Pikes, Boredale Hause, Hartsop
Start Point:
Hartsop
Grid Ref:
NY 409 130
Distance:
10 miles
Ascent:
3,200 feet
Weather:
A heavy mist which only lifted late in the walk
Accompanied by:

Marie, Ray, John L, Ian, Karen, Tony, led by me

Comments:
It was misty, wet and windy when I reccied this walk on Thursday. I was hoping for a much better day today. It wasn't raining or windy but the mist was even worse. It lasted till we were climbing Angletarn Pikes - hence some rather misty photos early in the walk. We eventually we had some decent views but too late to take many photos.
Scroll down to see photos of the walk
With the prospect of another misty day I decided to get a photo early on - Hayeswater Gill
The group wonders how we know that this is Gray Crag . . .
John comes up with a suggestion
Crossing the ridge we could be anywhere - but we did head in the right direction because . . .
we eventually reached Thornthwaite Crag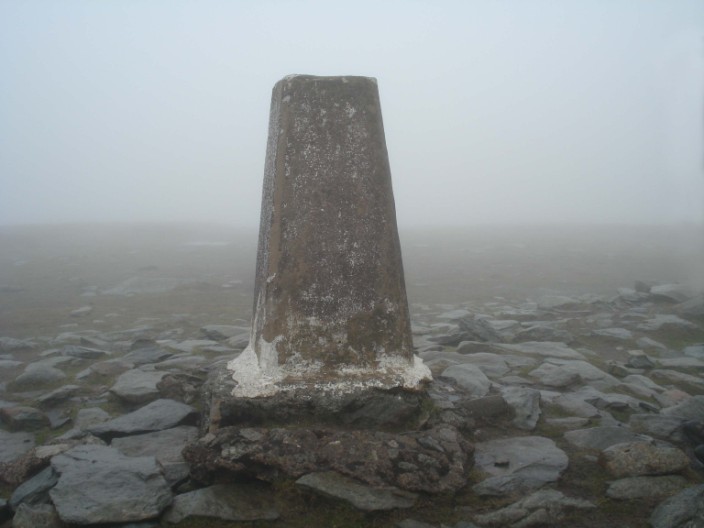 The High Street trig point looks a little forlorn without its white coat
Karen and Ian make their way across Sulphury Beck (or is it Prison Gill?)
A tantalising glimpse of Hayeswater
Lunch by Angletarn - I do believe the mist is beginning to clear
Not what you expect to meet on Boredale Hause
Time to re-adjust layers as we prepare to descend to Hartsop - and no mist!
Angletarn Beck puts on a good show . . .
as the water tumbles over the rocks . . .
and we prepare for the last 'climb' through the woods