Sunday, 28th September 2008
Walk:
Grasmere (A591), Thorny How, Helm Crag, Gibson Knott, Calf Crag, Steel Fell
Start Point:
Lay-by on A591
Grid Ref:
NY 338 085
Distance:
8.4 miles
Ascent:
2,400 feet
Weather:
A fine, sunny day with a cold wind
Accompanied by:

Joseph, Beth and Marie

Comments:
There was a cold breeze as we prepared to start the walk but in the sun and out of the wind it was a very pleasant day. The children found the climb to Helm Crag quite hard as they hadn't been to the Lakes for quite a few weeks. Beth seemed to be a little off-colour today and struggled a little. Once Joseph was on the ridge he enjoyed the walk and the clear views.
Scroll down to see photos of the walk
A helping hand . . .
across the stepping stones
Posing on the Southern end . . .
of Helm Crag
The Wainwright is at . . .
the Northern end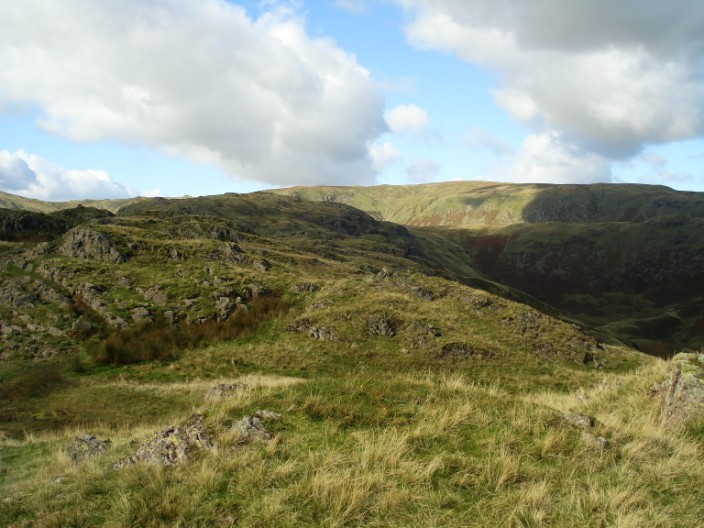 Looking across to Ullscarf from Helm Crag . . .
and across to Steel Fell
On the way to Gibson Knott, looking down to Grasmere . . .
and across to Easedale Tarn
In the opposite direction we can see Seat Sandal with Dollywagon Pike to the left and Fairfield to the right
After some searching we finally reach . . .
Gibson Knott
Joseph leads the way to Calf Crag . . .
which we can see on the left of the ridge . . .
The stepping stones provide a good spot for a photo
and made it at last . . .
and another pose
We found a sheltered spot for lunch
A nameless tarn on the way to Steel Fell . . .
and Beth was feeling rather cold
We get a good view down the Greenburn Valley
A brief stop and Marie checks her socks . . .
whilst I spot some colourful fungi
Looking across the Greendale Valley to Heron Pike on the left and Helm Crag on the right
Thirlmere from Steel Fell, with the Great Dodd on the right and Blencathra just left of centre
Joseph and Beth pose on Steel Fell . . .
before I take my turn
The route back to the car comes into view . . .
and Joseph takes the lead on the descent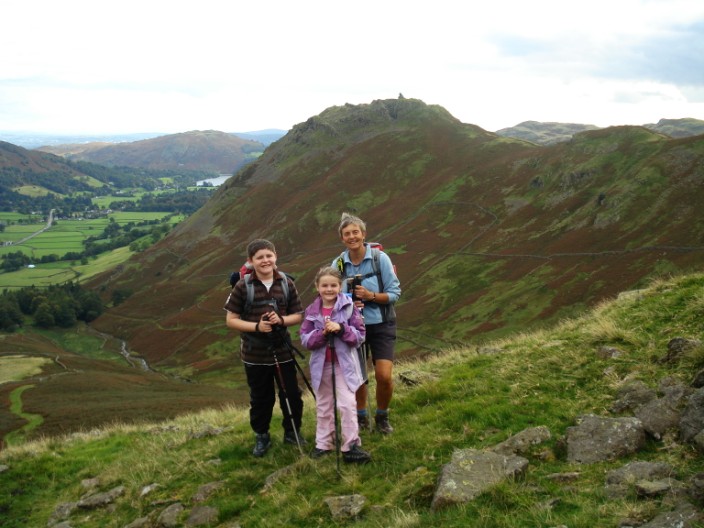 A group picture in front of Helm Crag
Back across the stepping stones . . .
and Joseph enjoys a 'footspa'
No stopping at 'The Traveller's Rest'