Sunday, 30th November 2008
Walk:
Easedale Road, Helm Crag, Gibson Knott, Calf Crag, Codale Head, High Raise, Tarn Crag, Easedale Road
Start Point:
Grasmere school car park
Grid Ref:
NY 338 073
Distance:
10 miles
Ascent:
3,200 feet
Weather:
Clear skies with lots of sun. Moderate wind with a high chill factor on exposed ridges.
Accompanied by:

Ray (leader), Marie, Ian, Tony, Steve, John K

Comments:
Following a particularly cold spell, the very cold ground conditions made negotiating some of the paths tricky due to standing ice, particularly at the higher altitudes where they had a covering of snow. However, the cold conditions were beneficial in some ways as the more boggy sections were frozen. Some members of the group enjoyed the challenge of 'summiting out' on Helm Crag - the only one that AW didn't climb! After making our way across to Calf Crag we were faced with an unenviable climb to High Raise, with the snow lying quite thick in places. However, the effort was worth it as we reached a 'winter wonderland' of pristine snow. Unfortunately we weren't able to linger as time was getting on and the cold wind soon began to lower the temperature. From High Raise we made our way across to Codale Head and down to Tarn Crag before returning via the Easedale Tarn Path
Scroll down to see photos of the walk
The sun beckons as we walk along Easedale Road towards Helm Crag . . .
but there is a very heavy frost this morning!
Tarn Crag stands proud between Easedale and Far Easedale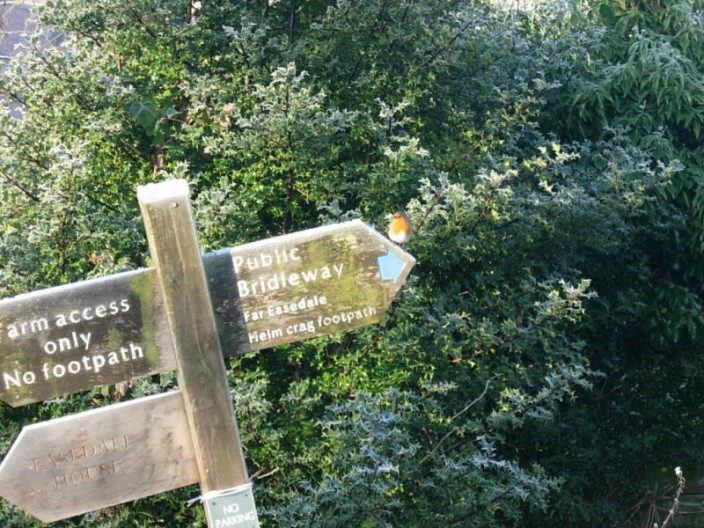 Is this robin showing us the way?
Seat Allan on the left with Fairfield, Great Rigg and Stone Arthur on the right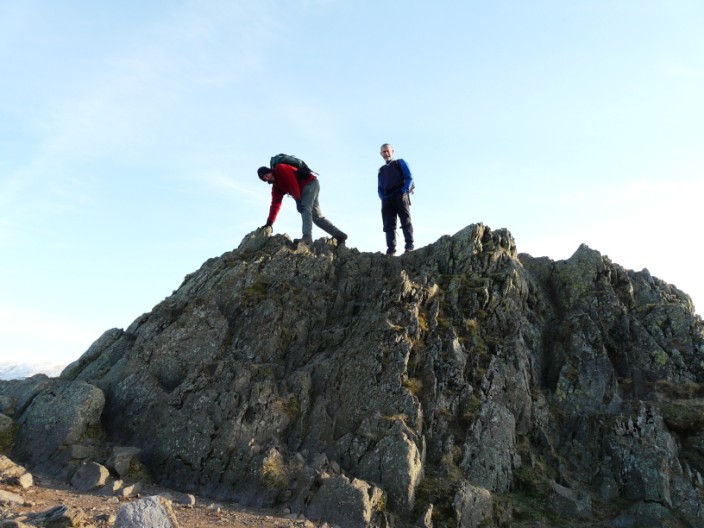 Ray and Ian check out the South top of Helm Crag . . .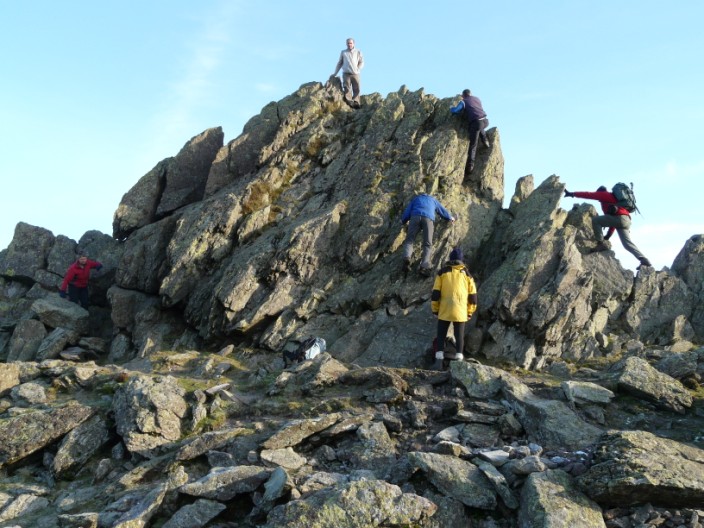 but a few more investigate the North top . . .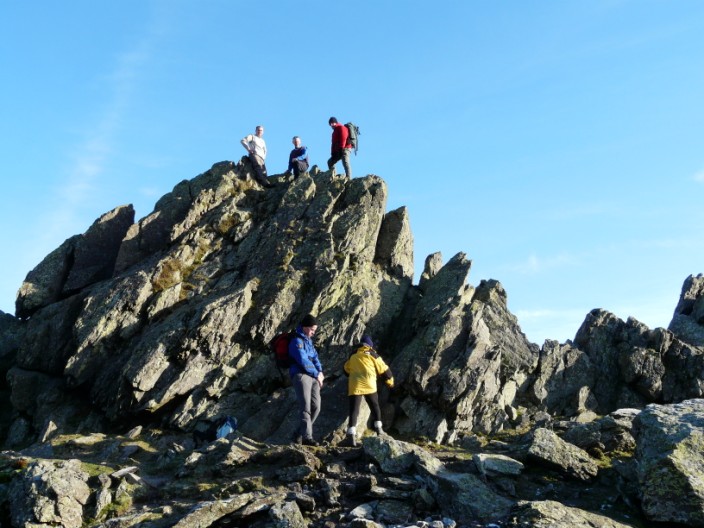 with Steve, Ian and Ray making it to the top
Easedale Tarn just comes into view, with the Langdale Pike behind
There's quite a drop to navigate as we head off to Gibson Knott . . .
but the, of course, we have to climb again . . .
before reaching Gibson Knott
We find a sunny, sheltered spot for a coffee break . . .
with fine views to Grasmere and Loughrigg
A small fungus hides in the frosty grass - shame about the camera lens cover!
A snowy path leads us on to Calf Crag . . .
but it is too cold to linger . . .
so we head down to Brownrigg Moss
where we see a couple of deer . . .
heading towards the Wythburn valley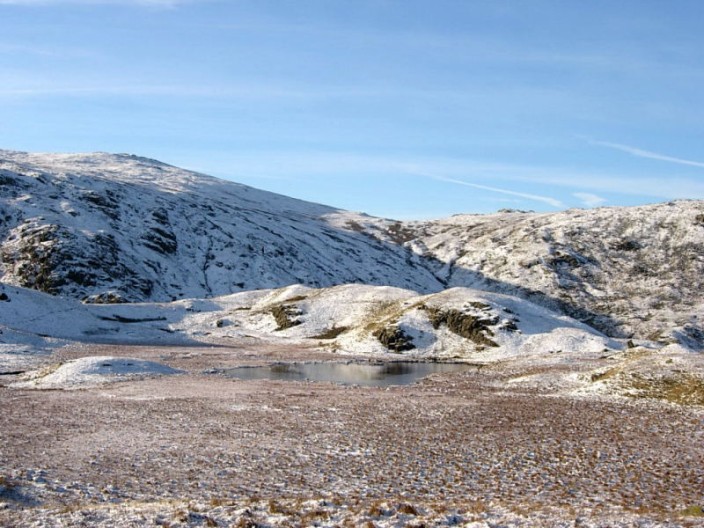 We head across the Moss . . .
with Greenup Edge on the far side
Near the top we can see that there is little snow on Skiddaaw . . .
but looking towards Thirlmere the Helvellyn range has quite a covering
The 'upside down pudding basin' of Great Gable is easily recognised
High Raise is a much prettier picture than the last tine we were here (28th October 2007)
It's colder than it looks when we stop for lunch . . .
and before long we head off to Codale Head . . .
and on to Tarn Crag (not sure this is the summit though)
The Helm Crag ridge just catches the sun, with Steel Fell left, Seat Sandal centre and the Helvellyn and Fairfield ridges in the distance
Sour Milk Gill is inviting - but a bit cold today . . .
and the light begins to fade . . .
giving some spectacular colours.