Sunday, 31st August 2008
Walk:
Braithwaite, Barrow, Outerside, Sail, Eel Crag (Crag Hill), Grasmoor, Hopegill Head, Grisedale Pike
Start Point:
Braithwaite
Grid Ref:
NY 227 237
Distance:
10.7 miles
Ascent:
4, 500 feet
Weather:
Overcast and humid to begin with but intermittent rain and swirling mist for much of the day
Accompanied by:

Ray (leader), Marie, John D, Ian, Tony, Steve, Lesley and Marj

Comments:
From Braithwaite we made our way up to Barrow, Stile End to Outerside. Climbing up to Sail it wasn't long before we succumbed to waterproof jackets and Ray showed off his colourful umbrella - is this the 'in thing' for leaders now? A rocky climb took us up to Crag Fell or, as Wainwright insists it should be called, Eel Crag. From here it was something of a drag up to Grasmoor, knowing that with the mist thickening we would not be able to see the spectacular views that it is known for. Descending (again!) to the hause it was then quite a steep climb up to Sand Hill before reaching Hopegill Head. The only consolation on this climb was that there was only one more!!! With swirling mist and rain still a problem we had only a brief pause on Grisedale Pike before heading down, and down, and down, and so on. Once the rocky descent had been navigated it was a stroll along the grassy track, followed by a narrow muddy path to the car park, tired but pleased with our tally of 7 Wainwrights (even though we have done them all previously!)
Scroll down to see photos of the walk
Tony mops his brow on a humid climb to Barrow
Marie and Kath on Barrow with Cat Bells in the distance
Time for a group shot before . . .
we continue on to Outerside and check out the route to Sail
Kath on Outerside with Causey Pike behind . . .
and Hopegill Head, Grisedale Pike . . .
and the Coledale Valley hiding in the mist
After a brief stop for elevenses . . .
we head up the path to to the hause . . .
on our way to Sail - an 'island' cairn?
Ray shows off his new umbrella . . .
before the rest of the group joins him
No sooner have we got to the top of one hill than it's down . . .
before we climb to the next one . . .
where Crag Hill (Eel Crag) boasts a trig point at its summit
The mist closes in as we reach Grasmoor with its summit shelter
Whiteside would not have been a sensible prospect today
Two wet walkers pose on Hopegill Head . . .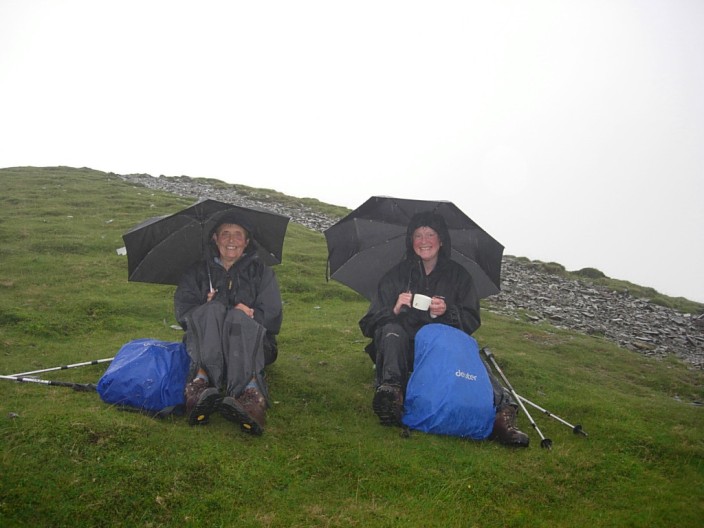 before getting out the umbrellas to create some shelter for lunch
Looking back from Hopegill Head Wandope pops up between Crag Hill and Grasmoor
A somewhat atmospheric section on our way to Grisedale Pike . . .
where we stop just long enough for a photo . . .
before heading down to the grassy path which is a welcome relief from the initial rocky descent
The path deteriorates to a muddy track as we pass a Rowan tree on our way back to the cars