Sunday, 7th December 2008
Walk:
Great Langdale, Side Pike, Lingmoor Fell, Elterwater
Start Point:
Elterwater car park
Grid Ref:
NY 329 051
Distance:
8.4 miles
Ascent:
2,540 feet
Weather:
An early mist which gradually cleared. Very slippery underfoot along the valley and a covering of snow on the fell
Accompanied by:

John L (leader) and 10 other members of the group

Comments:
Following a very slippery path along the shoulder of Lingmoor Fell we eventually climbed up to Side Pike where there was quite a strong wind. The group enjoyed navigating The Squeeze before continuing the climb onto Lingmoor Fell. By this time the mist had cleared and we had some good views over the frosty and snowy fells. On reaching the track from Dale End we were surprised to find a number of 4 x 4s heading our way - not quite sure what they would do when the reached the two foot rocky drop further along the track!
Scroll down to see photos of the walk
A bleak wintry scene as we head along the Great Langdale valley . . .
but the mist starts to clear to reveal Side Pike . . .
when we stop for a coffee break
The road from Great Langdale to Little Langdale is barely visible today
More views are appearing as we climb Side Pike . . .
and the Langdale Pikes stand majestically across the valley
Marie captures me as I extricate myself from The Squeeze . . .
before continuing on to Lingmoor Fell
Blea Tarn is overlooked by Wetherlam
Blea Tarn looks impressive from a higher vantage point . . .
and Pike O' Blisco steers clear of the mist that covers Crinkle Crags
It's almost a monochrome picture as we look towards Lingmoor Tarn
Nearly at the summit . . .
which we are all pleased to reach
The Old Man is just hiding in the mist
Some colour at last as Little Langdale comes into view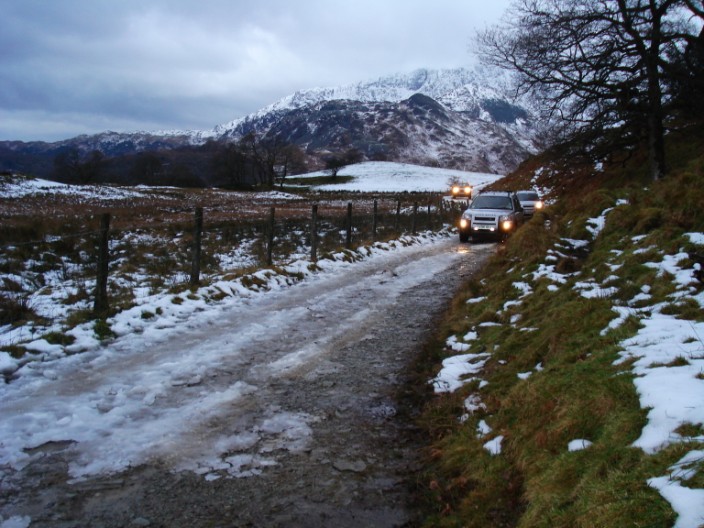 Now how are they going to navigate this track!!!