Wednesday, 8th October 2008
Walk:
Warton, Warton Crag, Three Brothers, Leighton Hall, Leighton Moss, Red Bridge, Waterslack, Hawes Water, Yealand Storrs, Cringlebarrow Wood, Hyning Wood
Start Point:
Quarry car park, Warton
Grid Ref:
SD 497 724
Distance:
10 miles
Ascent:
1,200 ft
Weather:
A sunny day, mainly warm but a cool breeze at times
Accompanied by:

Marie

Comments:
From the small quarry car park the path led up the limestone terraces to the beacon. A clear path headed from the beacon and trig point through Strickland Wood and down to Occupation Road. After passing Leighton Hall Holme Farm we crossed Leighton Moss and the railway line at Red bridge where we spotted an unusual garden feature - a blue beetle (car). The nature trail at Haweswater provided a good spot for lunch then we walked through Yealand Hall Allotment and on to Cringlebarrow Wood. Just before leaving the wood we spotted a lime kiln that was worth exploring. It was then a short walk through Warton and back to the car.
Scroll down to see photos of the walk
Grange from the path up the limestone terraces
Warton Beacon
Beacon and trig point . . .
and again
Summer Hill Wood
Leighton Hall . . .
and again
Leighton Moss from the causeway
Railway track at Red Bridge
An unusual garden feature!
Hawes Water
Limestone pavement in Yealand Hall Allotment
Holmepark Fell
From near Yealand Hall we can just see Ingleborough
This Red Admiral . . .
kindly stayed still long enough . . . .
for us to zoom in on it
Hyning Wood lime kiln, near the end of the woods
Information board
Zooming in on the detail . . .
and again . . .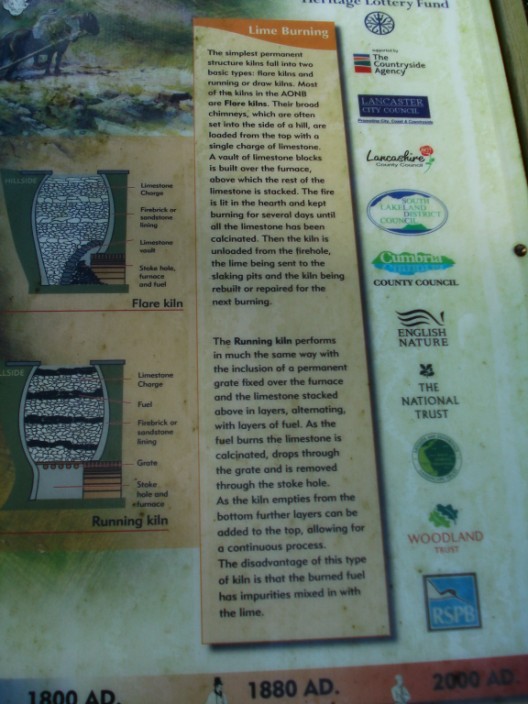 and once more