Tuesday, 10th March 2009
Walk:
Seat Sandal approach path, Tongue Gill, Brackenwife Knotts, Stone Arthur, Brackenwife Knotts
Start Point:
Lay-by opposite Mill bridge on A591
Grid Ref:
NY 336 091
Distance:
4.5 miles
Ascent:
1,900 feet
Weather:
Very mild and sunny
Accompanied by:

Marie

Comments:
This walk was to recce the initial route onto the path up the nose of Seat Sandal and the path from Stone Arthur over Brackenwife Knotts for a group walk in summer. After leaving the A591 we found that the route through the second gate, marked with a footpath sign, gave access to the higher fells. Previously this route had been blocked at the gap in the wall. Walking as far as the last wall, grid ref: NY 337 102 we stopped for our lunch break. Sitting in the sun with not a breath of wind it felt like summer had arrived at last. From here it was possible to check out the route down from Stone Arthur. We were fortunate enough to get a photo of an aeroplane travelling up the valley - not the usual jet but a much bigger affair. After descending back to Tongue Gill Force we made our way up Brackenwife Knotts. After passing the second wall corner the path deteriorates and it is very much a matter of just heading in the direction of Stone Arthur. Research had ensured that we found the correct rocky outcrop that is designated as the Wainwright. Having taken numerous photos we descended by the same route and back down to the car.
Scroll down to see photos of the walk
Mill Bridge
Stone Arthur from the route up Seat Sandal
Zooming in on the Langdales from . . .
our lunch spot, with Fairfield in the distance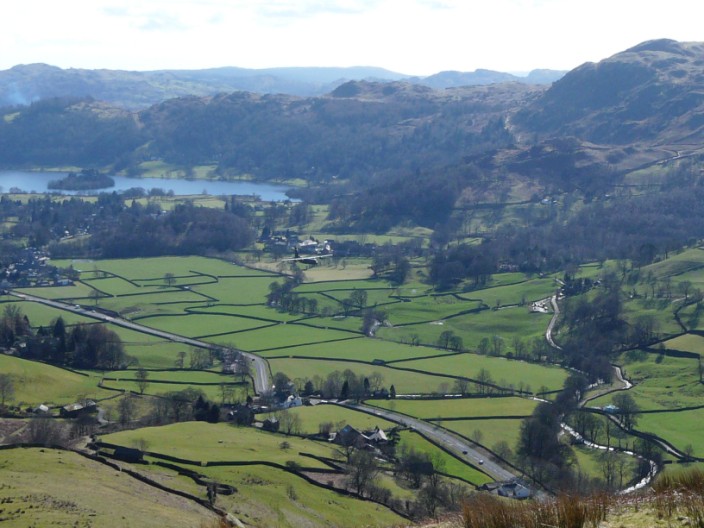 Just time to catch . . .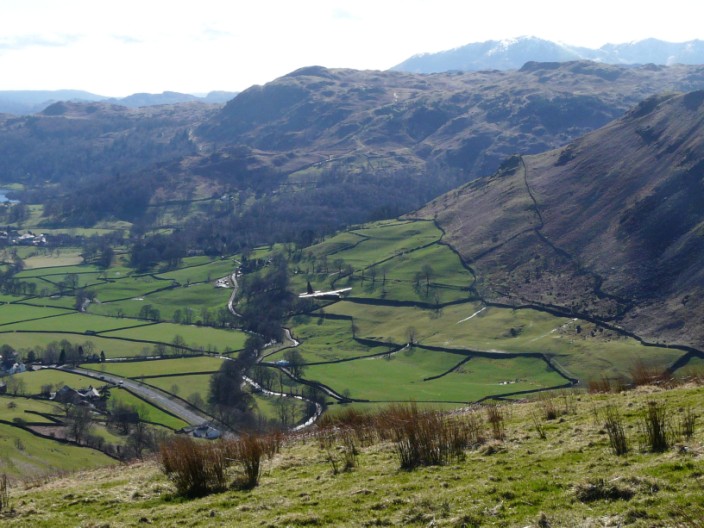 an aeroplane flying through the valley
Tongue Gill Force
Grisedale Hause from the path up to Stone Arthur . . .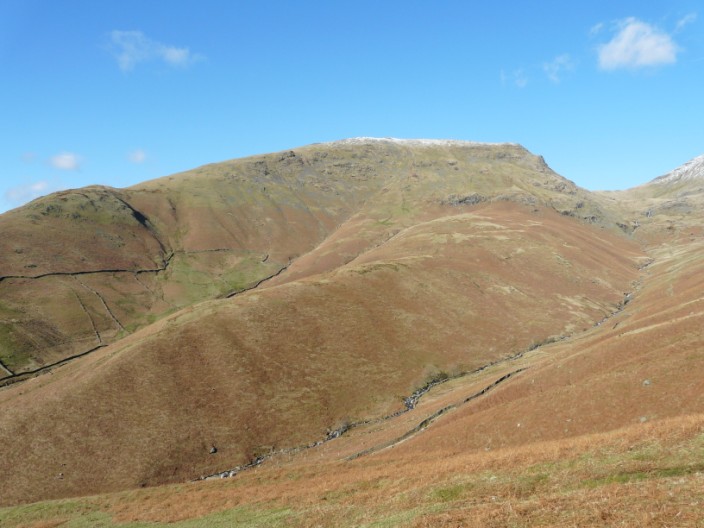 and looking across to Seat Sandal . . .
then over to Steel Fell
Approaching Stone Arthur
Stone Arthur with Alcock Tarn and Grasmere to the right
Marie poses on Stone Arthur . . .
as do I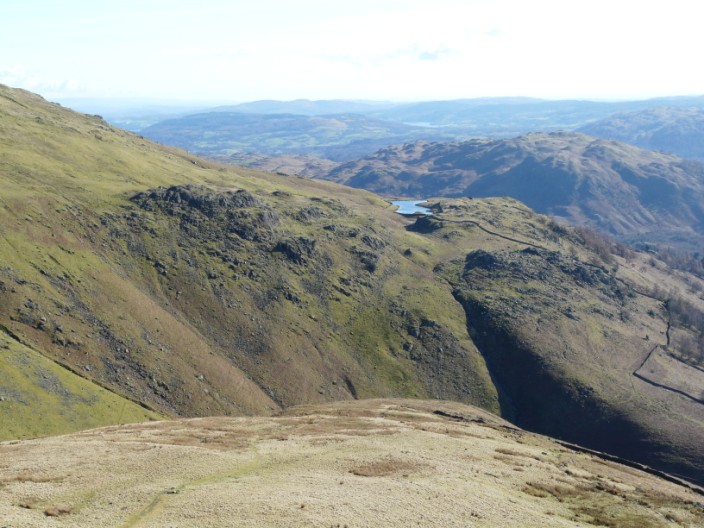 Closing in on Alcock Tarn . . .
and using the zoom we can see a few walkers on its shores
The usual route down lies just to the left of the rocks . . .
but descending over Brackenwife Knotts . . .
we get more views of Seat Sandal and Tongue Gill