Wednesday, 11th February 2009
Walk:
Plain Quarry, Storth Wood, Holmepark Fell, Newbiggin Crag, Hutton Roof Crags, Dalton Crags
Start Point:
Plain Quarry
Grid Ref:
SD 553 762
Distance:
7.5 miles
Ascent:
1,600 feet
Weather:
An early brief shower but then dry and cold
Accompanied by:

I joined the 'Moderate' group for this walk

Comments:
Initially the walk wended its way through woodland where the paths were very muddy. We then began to climb Holmepark Fell where we had good views, particularly towards Arnside and Grange. There were a number of interesting rock formations in the limestone pavement landscape, one of these resembling a table - which Norman tried out for a bed! Which eventually made our way up to Hutton Roof Crags where we had almost 360° views of the surrounding countryside. From here it was mainly downhill, through more woodland and back to the cars.
Scroll down to see photos of the walk
As a change from normal Marie and I joined the 'Moderate' walking group to explore Hutton Roof Crags . . .
but the paths through the woodland were extremely muddy!
It was a relief to begin climbing up to the limestone pavement . . .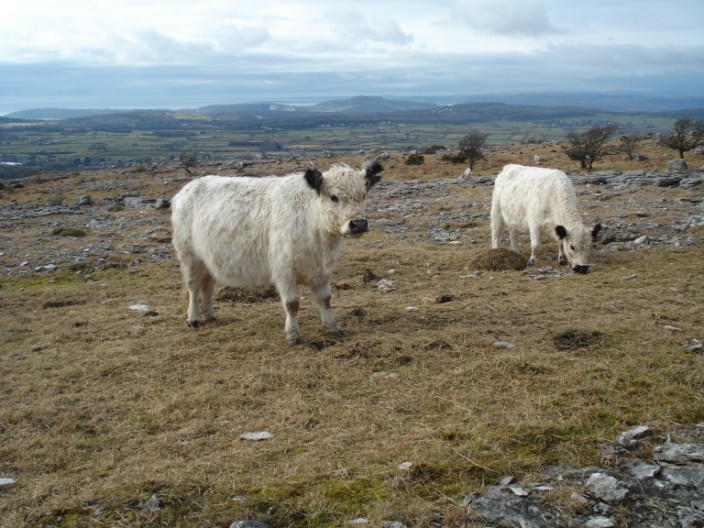 and meet some of the local residents
On the way we passed a number of interesting features . . .
which Marie took a closer at
From Holmepark Fell there were good views across to the coast and Morecambe Bay
Our lunch spot overlooked Farleton Knott but, unfortunately this was not on our route
Rocks provided shelter for the group
More interesting rock formations were to follow . . .
including one that resembled a table . . .
or a bed!
Our path then took us across to . . .
Hutton Roof Crags from where Ingleborough could be seen . . .
in its white Winter dress . . .
and the trig point provided an opportunity for a summit photo