Sunday, 11th January 2009
Walk:
Terraced Gardens, Pigeon Tower, Rivington Pike, Two Lands Cairns, Winter Hill, Belmont, Horden Stoops, Yarrow Reservoir
Start Point:
Great House Barn, Rivington
Grid Ref:
SD 629 139
Distance:
11.5 miles
Ascent:
2,100 feet
Weather:
Apart from a shower early in the walk the day remained dry and there were some good views
Accompanied by:

11 members of the Fylde Ramblers and 4 visitors from other groups

Comments:
As our group usually consists of 6 to 10 members it was a surprise to find that 15 people turned up to joint the walk that I was leading. Walking up through the terraced gardens there was still quite a lot of ice around despite the milder weather. The early rain had stopped by the time we reached the Two Lads cairns so we were able to make use of the scattered stones as we stopped for a morning coffee. After a diversion to the trig point we headed down the track to Belmont, just in tine to take advantage of the benches in the Church yard as we stopped for lunch. Leaving Belmont a gradual ascent took us to Hordern Stoops on the crest of Rivington Road. From here we headed down to Higher and Lower Henshaw's and on to Lead Mines Clough. The ice sheets on the banks of the river showed a considerable change in the level of the water in the past few days. A short, but sharp climb took us on to a sometimes very muddy path across to the Yarrow Reservoir from where it was an easy walk through Rivington village and back to the cars.
Scroll down to see photos of the walk
Lots of choice of seats for our morning coffee stop . . .
but some of us prefer the shelter of the larger cairn . . .
and Rob seems to have won the 'battle of the backpack' - see previous photo
'Smile please' - on Winter Hill
Not far to Belmont now . . .
but first we have to head through the woods
The benches by the church . . .
provides a selection of benches for our lunch stop
Leaving Belmont with Ward's Reservoir in the background . . .
and Mandy finds time for a wave as she navigates a stile
Time to regroup before a short section of road walking
The ice sheets on the bank tell their own tale
Some of the group discuss the Yarrow reservoir . . .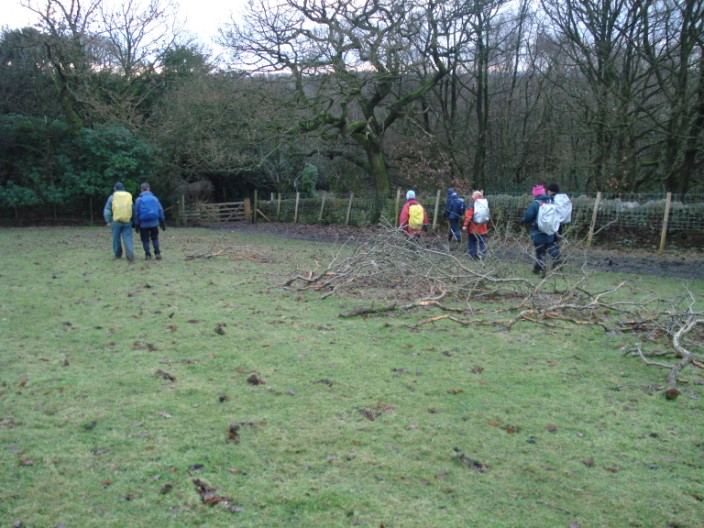 whilst others are keen to get back to the cars
Return to 2009 Diary Return to top