Thursday, 13th August 2009
Walk:
Low Bentham, Oakhead Bank, Great Stone of Fourstone, Burbles Gill, Ridding Lane, St Margaret's Church, River Wenning
Start Point:
Opposite Punch Bowl Inn
Grid Ref:
SD 646 693
Distance:
8 miles
Ascent:
900 feet
Weather:
Mainly sunny with some cloud
Accompanied by:

On my own

Comments:
Having taken this walk from 'Curious Lancashire Walks' by Graham Dugdale, I found a couple of mistakes where he had put 'left' instead of 'right'. I parked opposite The Punch Bowl Inn as there wasn't a grass verge where he had indicated. The route wasn't an easy one to follow but provided good navigation practice and a wide variety of terrain. It was a very enjoyable walk on a sunny day.
Scroll down to see photos of the walk
Can we come too?
Approaching the Great Stone of Fourstone . . .
a metre high relic of the Ice Age deposited by the receding ice sheet
Ingleborough from the top of the stone . . .
which has many names carved on it
With no-one around I had to use the timer on the camera . . .
but didn't set it for long enough to get to the top - where I had my elevenses
Leaving this remarkable monolith . . .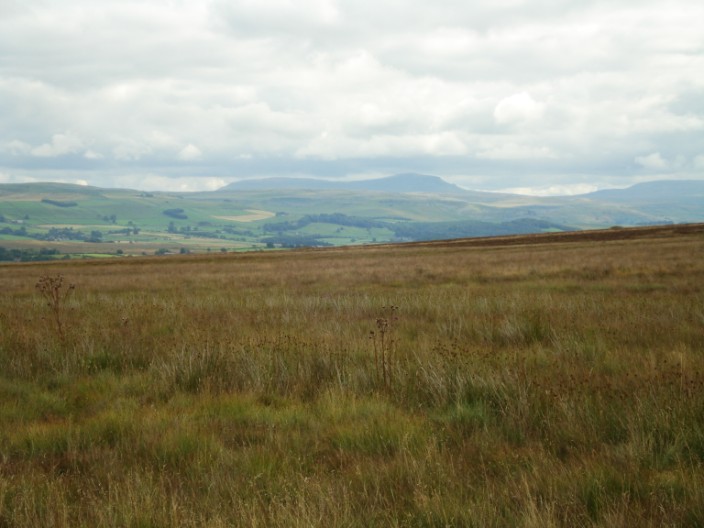 there are great views to Pen-y-Ghent . . .
Ingleborough . . .
Whernside . . .
and Gragareth
Bridge over the . . .
River Wenning . . .
followed by a tunnel under the railway line . . .
where a train passes just on time
St Margaret's Church at High Bentham . . .
provided a great spot for lunch
Waterfalls on the River Wenning . . .
and further downriver a weir . . .
provides a good spot for ducks to browse in the water
Return to 2009 Diary Return to top