Sunday, 1th September 2009
Walk:
Helton, Bampton Common, Wether Hill, Loadpot Hill, Bonscale Pike, Arthur's Pike, Helton Fell, Knotts
Start Point:
Grass verge on fell road 1.2 miles east of Helton
Grid Ref:
NY 494 213
Distance:
12.4 miles
Ascent:
1,900 feet
Weather:
Dull initially but brightening up through the day
Accompanied by:

9 members of the group, led by me

Comments:
With a good weather forecast and easy walking in store this was a day to look forwards to, and we weren't disappointed. Making our way along tracks and through a number of fields we eventually started the climb up to Bampton Common. Finding a few rocks to sit on we took our morning break overlooking the lowland across to Shap before continuing on to meet the Roman Road from Ambleside to Pooley Bridge. From here there were great views across to the Eastern and Northern Fells. Following in the footsteps of the Romans we visited Wether Hill before diverting from their route to take in Loadpot Hill. An initially indistinct footpath then took us across to Bonscale Pike where we thoroughly enjoyed the good weather and great views (and good food) as we stopped for lunch overlooking Ullswater. It was then a short walk across to Arthur's Pike before a little 'off path' walking to pick up the path over Helton Fell. The rocky outcrop of Knotts was too inviting so another break was taken, enjoying the sunshine in the knowledge that it was now only a short stroll to the cars.
Scroll down to see photos of the walk
A young calf near Scales Farm . . .
and are these twins?
Time for a bit of weeding??!!
A slab bridge takes us over Cawdale Beck . . .
and time for morning coffee on Bampton Common
Hallin Fell and Ullswater are in view as we head to . . .
Wether Hill . . .
where the group check out the fell tops
The ruins of the chimney which is all that is left of a wooden shooting hut that once stood here
Loadpot Hill, with its usual puddle . . .
and the group is persuaded to pose for a photo
Hallin Fell with Gowbarrow Fell on the opposite side of Ullswater . . .
and a change of direction brings the Mell Fells into view
Bonscale Pike provides great views . . .
across Ullswater to Oldchurch Bay . . .
and towrds Pooley bridge across Thwaitehill Neb
John and Ray relax after lunch on the slopes of Bonscale Pike . . .
with its nearby towers . . .
the lower one being Bonscale Tower
Time to 'climb' Arthur's Pike . . .
and catch the group in thoughtful mood . . .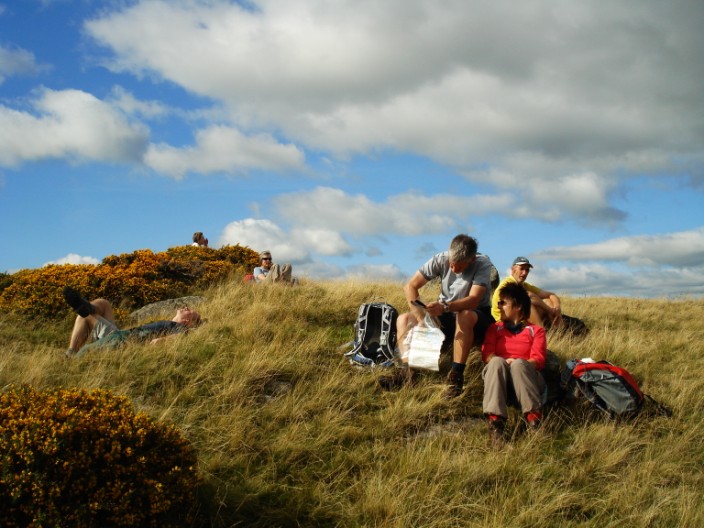 before making our way across Helton Fell to Knotts - and a brief pause in the sun before returning to the cars
Return to 2009 Diary Return to top