Sunday, 15th March 2009
Walk:
Bampton Common, Wether Hill, Loadpot Hill, Bonscale Pike, Arthur's Pike, Helton Fell
Start Point:
Fell road near Moorahill Farm
Grid Ref:
NY 495 182
Distance:
12.5 miles
Ascent:
2,100 feet
Weather:
A dry and mild day with some sunny spells
Accompanied by:

On my own

Comments:
Taking the minor road East from Bampton village I found a good parking spot just before Moorahill Farm. However, the road was very narrow and hilly awith some sharp bends and there were few passing places. Following the path marked on the map I encountered a very muddy farm track and it was impossible to cross Cawdale Beck at the Ford. An alternative spot was found further upstream. On my return to the car I checked out the foot bridge below Towtop Kirk, where there is a slab bridge. There is a wide grassy path across The Hause though this deteriorates a little as it approaches High Street. Continuing on to Wether Hill there are good views over the fells towards Fairfield and Helvellyn. After a brief stop at Loadpot Hill I made my way across to Bonscale Pike and Arthur's Pike, from where there are good views of Ullswater. Taking a pathless route across to the main High Street path I took the path over the Wartches and Helton Fell. After crossing Knotts the route followed road, farm tracks and field paths back to the car.
Scroll down to see photos of the walk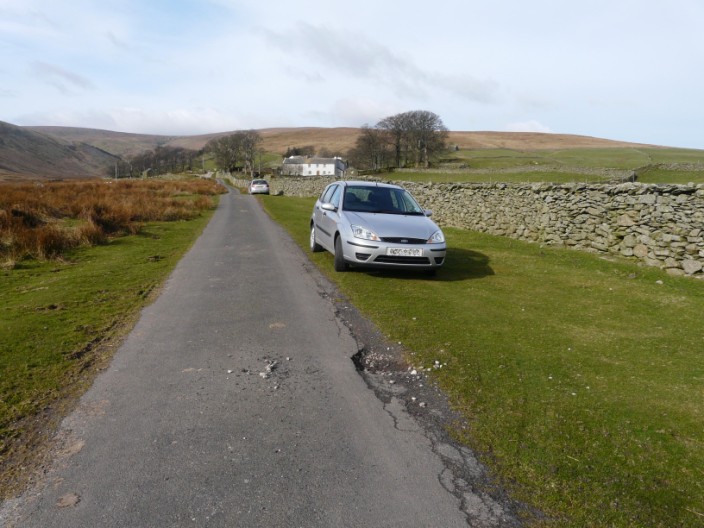 A good place to park but not an easy route to get here
A muddy track to navigate, followed by a walk up The Hause
From the High Street path Rest Dodd can be seen to the left with The Nab in the centre and Grisedale Hause to the right
Zooming in over Beda Fell you can just see the Angletarn Pikes popping up
From Wether Hill Ullswater can just be seen with Steel Fell to the left and Hallin Fell to the right
Time to use the self-timer on the camera - oh for a tripod to get a better shot!
An unusual shelter on the way to Loadpot Hill - more like a wall with seats on each side and at each end!
A couple of mountain bikers ready to leave after a brief pause on Loadpot Hill
En route to Bonscale Pike there are good views of Ullswater and Hallin Fell to the West . . .
and from the summit the Mell Fells can be seen behind Great Meldrum
One for the album - on Bonscale Pike . . .
and a view of the two towers with Arthur's Pike beyond
Arthur's Pike . . .
and me!
Return to 2009 Diary Return to top