Thursday, 17th September 2009
Walk:
Slaidburn, Easington Fell, Walloper Well, Sadler Hill, Foulscales, Newton, River Hodder
Start Point:
Slaidburn car park
Grid Ref:
SD 713 523
Distance:
9.3 miles
Ascent:
1,100 feet
Weather:
A cloudy day with little wind
Accompanied by:

On my own

Comments:
Walk 3 from Paul Hannon's book, 'Bowland', with an extension to Foulscales and Newton. Leaving Slaidburn across the bridge the walk quickly heads across pasture land on a good path. It seems the rough stony track heading up onto Easington Fell used to be a sunken grassy track - a disappointing development. Eventually the stony track is left behind but any feelings of being 'out on the moors' are lost when the Clitheroe-Slaidburn road is approached. However this road is soon left behind and as the cairn on Sadler Hill came into view I decided that a detour was necessary to explore the area. Curiosity satisfied I continued with the route which was now the extension I had added on to visit Foulscales and Newton before returning alongside the River Hodder. The route was a good mixture of grassy tracks, farm tracks and off-path walking.
Scroll down to see photos of the walk
The River Hodder from Slaidburn bridge
Easington Fell . . .
and Sadler Hill
Skelshaw - a quite imposing looking building . . .
and again from the back
I'm glad the Highland Cattle are friendly . . .
but perhaps sheep are not so welcome
Detouring across to Sadler Hill . . .
a tarn was hiding in a depression
The large cairn on Sadler Hill invited exploration
The sycamore tree shows distinctive signs of Autumn
Time for a morning nap
The grouse are quick to . . .
make a run for it . . .
and some head across the field . . .
but this one can't decide which way to go
Ready for renovation??!!
The River Hodder is spanned by . . .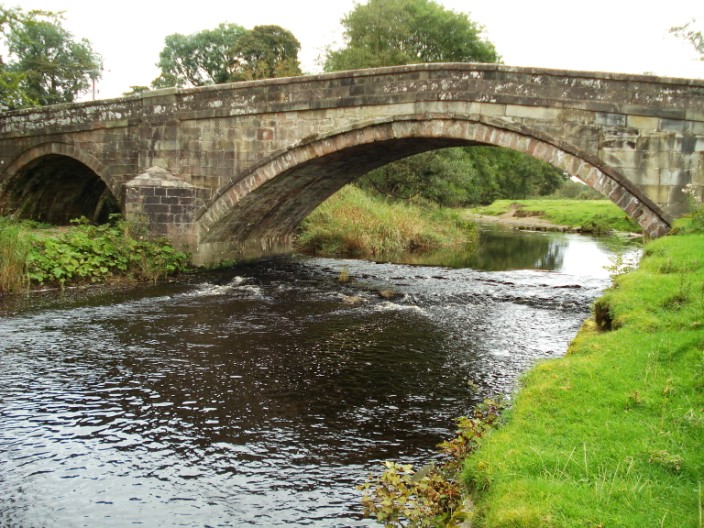 Newton Bridge
A colourful flower triangle in Newton . . .
and nearby cottages
Dunnow Hall from the path by the River Hodder
Return to 2009 Diary Return to top