Thursday, 19th February 2009
Walk:
Askham, The Cockpit, Loadpot Hill, Bonscale Pike, Arthur's Pike, Heughscar Hill
Start Point:
Askham Community Hall car park
Grid Ref:
NY 512 236
Distance:
13 miles
Ascent:
1,800 feet
Weather:
A dry day with mist at higher levels
Accompanied by:

Marie, Andrea, Gill and Shep

Comments:
Having driven through mist we were pleased to see that it seemed to have cleared as we reached Askham. Leaving this pretty village behind we made good time as we walked to The Cockpit stone circle. From here it was a gradual climb all the way to Loadpot Hill which, unfortunately was still surrounded by mist. Six miles from Askham, this is the longest walk to get to the first Wainwright that I have done. Not being able to locate the path to Bonscale Pike we headed in the general direction and eventually came across a suitable one. By now the mist was lifting (or we were descending) and we were able to get some good views of Ullswater and its surrounding fells. With easy walking on these open fells we made good time across to Arthur's Pike and on to Heughscar Hill, one of Wainwright's Outlying Fells. It was then all downhill back to Askham and a general sense of satisfaction of having completed the walk in good time.
Scroll down to see photos of the walk
Shep gets himself 'all tied up' before we set off
The fell ponies are out and about again today
Shep takes charge in The Cockpit stone circle
Time for elevenses, but Shep is keen to move on
Heads down on the snow slope . . .
but we are having fun!
Loadpot Hill - in mist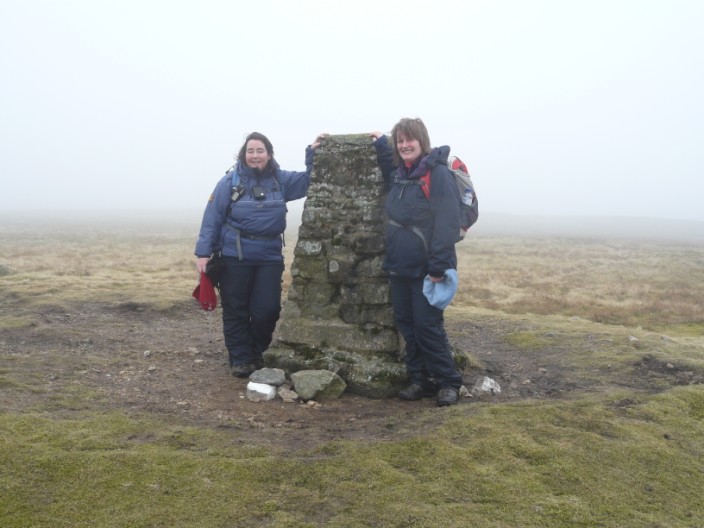 Andrea and Gill are pleased to tick off another Wainwright
I think I need a tripod when I want to use the timer!!
As we descend, Hallin Fell and Ullswater come into view
The Knotts and Birk Crag can be seen on the opposite side of the water
Howtown can finally be seen . . .
with a ferry just on its way to Glenridding
Shep claims Bonscale Pike . . .
but I soon take his place . . .
and nearby there is a sheltered spot for lunch
Arthur's Pike is our next port of call . . .
and for once we get Shep facing in the right direction
Pooley Bridge and Dunmallard Hill
As we make our way to Heughscar Hill we zoom in on riders on the Pooley Bridge path
Heughscar Hill, our last summit of the day . . .
from where we can just make out Arthur's Pike and Loadpot Hill - with touches of snow on its flanks
And finally back into the unspoilt village of Askham
Return to 2009 Diary Return to top