Wednesday, 19th March 2009
Walk:
Ribblehead Viaduct, Bleamoor Sidings, Knoutberry Hill, Whernside, Moss at Back o'th Rigg, Gunnerfleet Farm
Start Point:
Lay-by near Ribblehead viaduct
Grid Ref:
SD 765 793
Distance:
11.5 miles
Ascent:
1,470 feet
Weather:
A hazy mist initially but becoming warm and sunny during the day
Accompanied by:

Marie

Comments:
A very clear path all the way to the top of Whernside. Quite a lot of work has been done recently on improving the path, particularly on the ascent and descent to and from the summit. Good views but as it continued to be hazy in the distance photographs could only be taken of nearer views. A very gradual descent took us down to Moss at Back o'th Rigg where we made our way across to the bridleway. We returned along this mainly grassy path, passing through a number of farms and an interesting limestone outcrop. Turning off the path just before Winterscales Farm we passed under the huge arches of the viaduct, and back to the cars.
Scroll down to see photos of the walk
Setting out, the mist obscures even the flanks of Whernside
The aqueduct takes the water from Force Gill across the railway line . . .
and higher up the waterfall can be seen
The mist has lifted and Whernside comes into view - with a touch of snow
The tarn on Greensett Moss - or is a map of Australia?
The flanks of Gragareth can just be seen from Whernside summit
One of the two shelters on the summit
The frogs were out in force today - basking in the sun
Looking back up to Whernside en route to . . .
Moss at Back o'th Rigg where we found a sunny bank for our lunch stop
Our return path gives us a good view of the route we followed earlier
A local resident poses for the camera
The path takes us through an interesting limestone outcrop . . .
and the viaduct draws closer - still some mist around
Another local resident pops up to say 'Hello'!
Almost at the viaduct . . .
with its 24 arches . . .
and a special award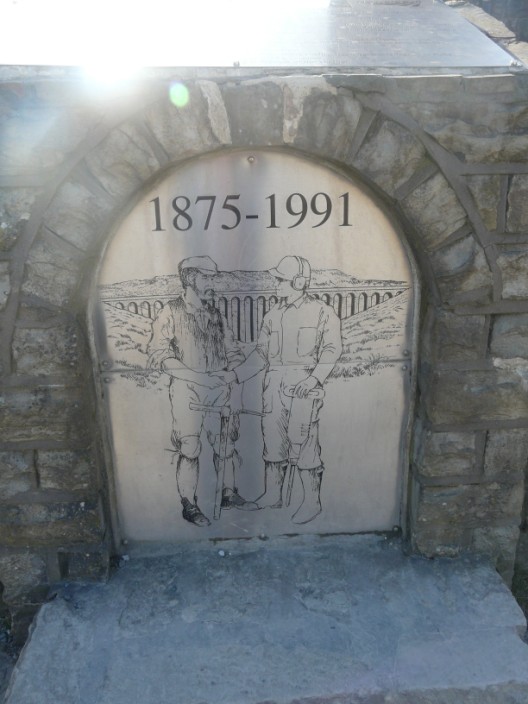 An interesting comparison of tools
After passing 'under the arches' it's a short stroll back to the car
Return to 2009 Diary Return to top