Wednesday, 1st April 2009
Walk:
Troutbeck Bridge, Sour Howes, Sallows, Yoke, Ill Bell, Froswick, Troutbeck Tongue Valley
Start Point:
Church Bridge, Troutbeck
Grid Ref:
NY 412 027
Distance:
11 miles
Ascent:
3,040 feet
Weather:
A very mild and mainly sunny day
Accompanied by:

Marie

Comments:
Most of our previous visits to Sour Howes and Sallows had been in mist so we were looking forward to a few good views today - and we were appropriately rewarded! After crossing Dubbs Road the climb to Sour Howes is steep in places but a good grassy path. By the time we reached Sour Howes we were surprised to find that we had already climbed 1,200 feet of the 3,100 planned for the day. It was then an easy stroll round the head of the valley to Sallows. These two Wainwrights don't seem to be particular popular but are a very enjoyable walk with a variety of options for the rest of the day. Dropping down to the Garburn Pass we then made our way up to Yoke, then Ill Bell and Froswick. After descending from Froswick we headed west to pick up a path that made its way down from Thornthwaite Crag and continued down towards Troutbeck Tongue. Initially a good grassy path the track became narrower as we descended but still an easy route. We declined the side paths that would take us onto Troutbeck Tongue as we were there only a couple of months ago! As always the walk out of the valley can seem quite long and for once we glad to see Limefitt Caravan Park which we crossed to get back to the road and the car. A very enjoyable walk.
Scroll down to see photos of the walk
Troutbeck with Wansfell Pike on the left and Wansfell on the right
Troutbeck Tongue surrounded by Wansfell, Caudale Moor, Thornthwaite Crag, Froswick, Ill Bell and Yoke
Sour Howes is a ridge in a series of grassy hummocks marked by a few stones . . .
and me!
and is visible from Sallows . . .
a curving mound of shale and grass 30 feet long with an attempt at making a cairn . . .
and highlighted by myself!
Yoke is a much more prominent affair, being the first summit of the Kentmere Horseshoe . . .
and to the left two of the cairns on Ill Bell can be seen
From the hause between Yoke and Ill bell the Kentmere Reservoir comes into view, as does Mardale Ill Bell, the Nan Bield Pass and Harter Fell
The central cairn on Ill Bell is designated by Wainwright as the summit . . .
and both Marie . . .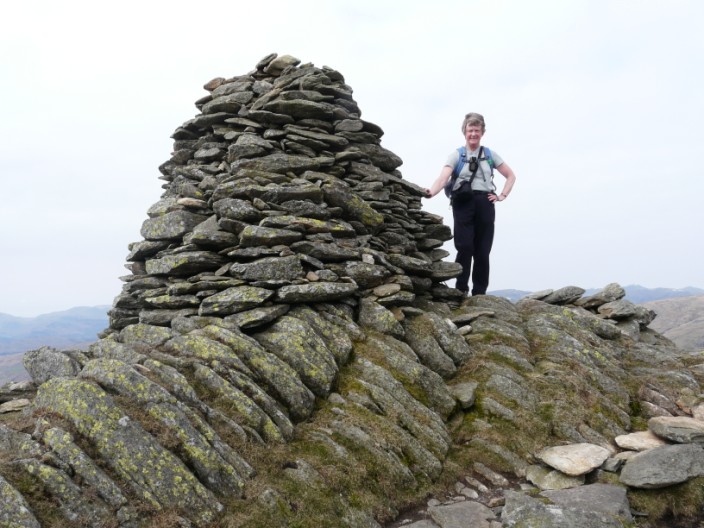 and I have our summit photos there
Leaving Ill Bell there is quite a descent before continuing on to Froswick . . .
and on the way the craggy North face of Ill Bell is quite daunting
From Froswick we can just see Ullswater between Caudale Moor and Thornthwaite Crag . . .
and the cairn makes a good seat!
Descending from Park Fell Troutbeck Tongue soon comes into view, with Windermere in the distance
After crossing the footbridge over Hagg Gill . . .
Marie spots a chaffinch on the path ahead . . .
and a lamb watches us walk by . . .
whilst 'herdy' poses for the camera
No Marie - you can't do your gate vault over this one!
An extensive area seems to have been planted with trees and surrounded by deer fencing and gates
The churchyard sports a colourful display of daffodils
Return to 2009 Diary Return to top