Friday, 1st May 2009
Walk:
Walltown Quarry to Housesteads Information Centre
Start Point:
Walltown Quarry car park
Grid Ref:
NY 668 659
Distance:
9 miles
Ascent:
2,640 feet
Weather:
Rain for about half of the walk
Accompanied by:

Marie

Comments:
We left the car at Housesteads NT car park and caught the 10.29am bus to Walltown Quarry car park, arriving just after 11am. We kept to the path nearest the wall which meant that there were many 'ups and downs' along the way. Much of the route was visible ahead of us and walking in a westerly direction certainly gave the best views and meant that the wind and rain were behind us instead of in our faces. Most of the route was easy underfoot with a couple of steep sections which were stepped. Fortuntaely the rain had stopped before we finished the walk so we had dried off by the time we got back to the car.
Scroll down to see photos of the walk
Leaving the car park we climb to the right of the cliffs . . .
and pass a bench that reminds us where we are
Our first view of the wall . . .
which is quite substantial at this point . . .
but as we travel further along . . .
it is not in such a good state of repair
The sheep decide that the grass is greener on the other side
The information boards are appropriately placed . . .
to let us know what we are seeing
Walltown Crags
The first of the many descents and ascents . . .
and looking back to the same gap
Looking ahead we have a good view of our route
A major section of the wall has recently been repaired . . .
I wonder if it will last as long as the original wall?
Aeisca Roman Fort . . .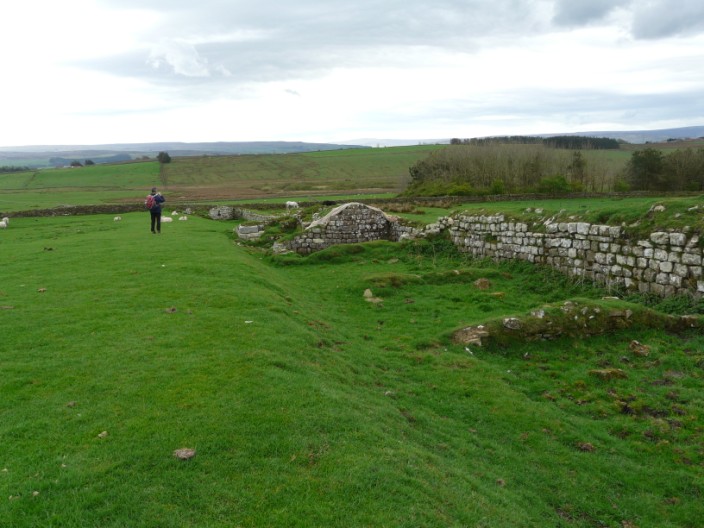 where some of the structure . . .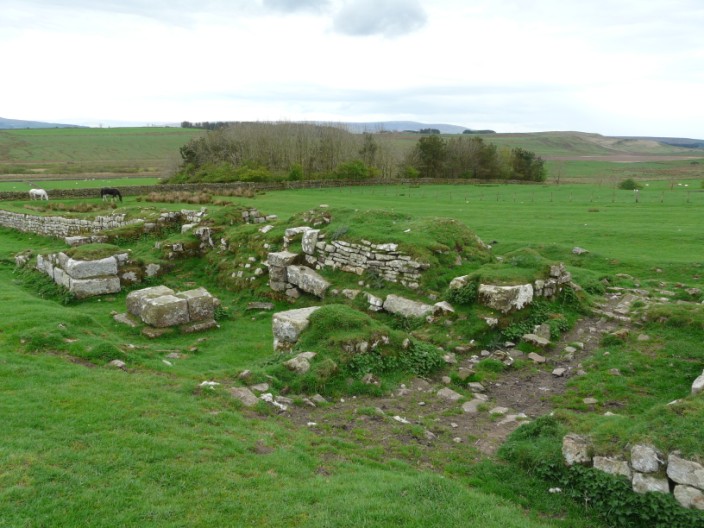 can be identified
Continuing along the path . . .
we soon reach Cawfields Quarry . . .
where there is another car park . . .
and lots of information
The information board makes good reading . . .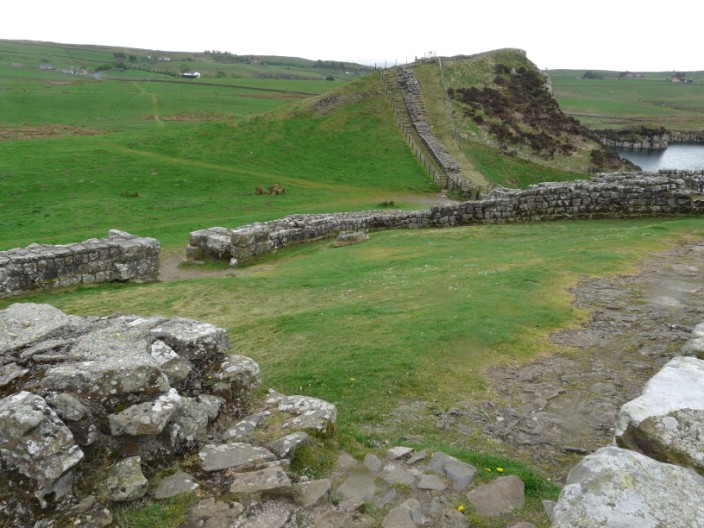 as we explore the next milecastle
The wall zig-zags on . . .
and we take the opportunity to get a 'bird's eye view' of the wall
The bend in the wall shows the interesting structure as it climbs the incline . . .
before stretching away ahead of us
Caw Gap turret . . .
with its own information board
Caw Gap
We are surprised to find a trig point on Windshields Crags
Milecastle 39 has its own . . .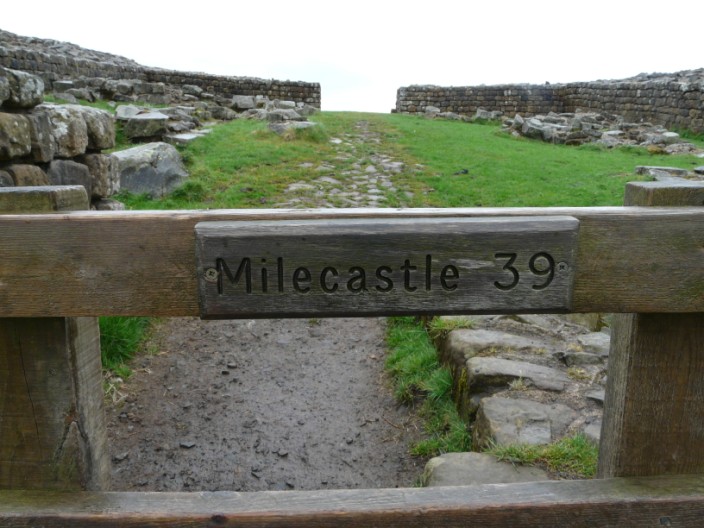 mode of identification
I wonder why grass grows on the wall at this point?
One more gap to navigate
Moving away from the wall we find a grassy path . . .
before passing one more milecastle - with the remnants of an arch
Return to 2009 Diary Return to top