Sunday, 20th December 2009
Walk:
Beacon Hill, Grindleton Fell, Lane Ends, Higher Heights, Rod Hill Gate
Start Point:
Car park at The Spread Eagle, Sawley
Grid Ref:
SD 776 466
Distance:
8.6 miles
Ascent:
2,270 feet
Weather:
Very cold with frequent snow showers turning to blizzard conditions in the afternoon. Light winds in the morning becoming stronger in the afternoon.
Accompanied by:

8 members of the group led by Phil

Comments:
The recent snow and cold spell promised to make this an interesting day. Fortunately we didn't have far to travel as the conditions, even on the A59, meant that driving took concentration and care. The Hotel car park had an icy covering and one of the group took a tumble even before we had left the car park. Walking on the road was treacherous but across fields the crunchy snow allowed time for us to enjoy the 'Winter Wonderland'. The walk was cut short so that we could return to the hotel early for our Christmas Dinner. The Spread Eagle was a very pleasant venue with excellent food - a good place to return to for future celebrations!
Scroll down to see photos of the walk
Grey slies as we head across the fields . . .
in a 'Winter Wonderland' . . .
but caution was required when crossing stiles
A light mist touches the top pf Pendle Hill as we gather for a 'photo call'
With a very cold wind on Beacon Hill . . .
we quickly make our way towards Grindleton Fell . . .
where the trees sport a dusting of snow
The wall provides a little shelter for our morning break . . .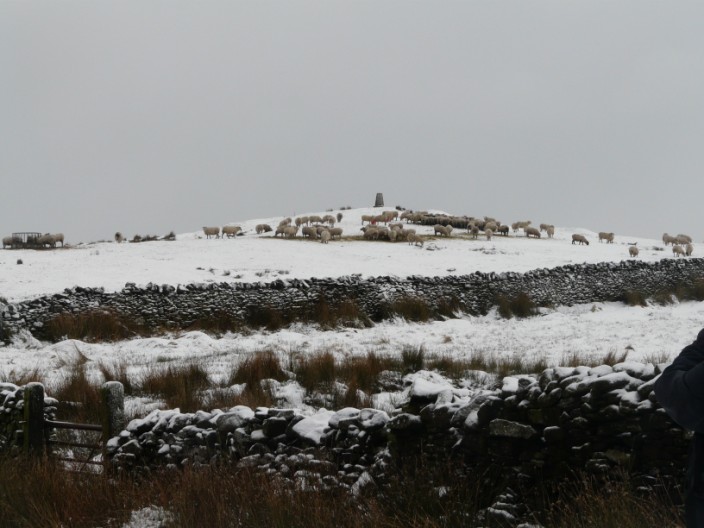 and looking back to beacon Hill . . .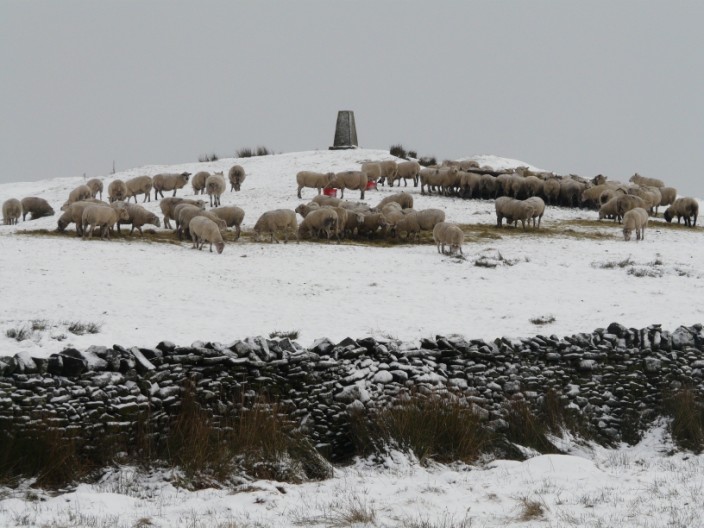 the sheep enjoy their 'morning snack'
A wintry scene . . .
as we make our way through the forest . . .
and across the fields
Another wall heralds our lunch break . . .
but the route to come . . .
involves some tricky terrain
The snow closes in . . .
as we continue on our way . . .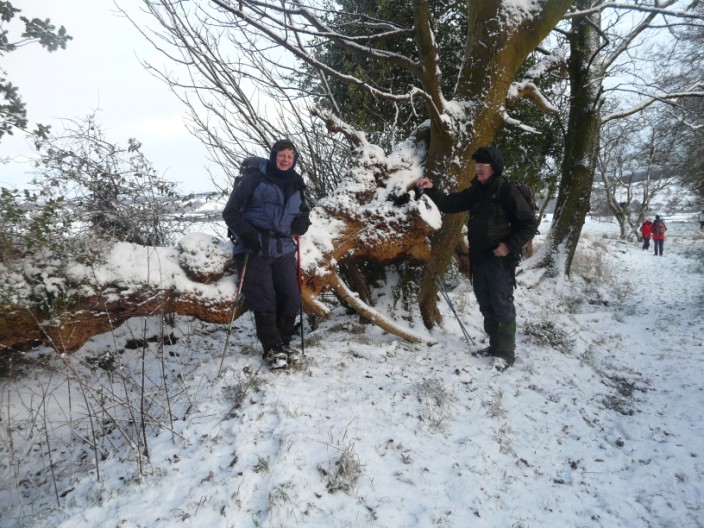 but before too long the sun is shining again
A quick brush up and change of clothes - is this really the same group of people enjoying their Christmas Dinner?