Sunday, 22nd February 2009
Walk:
Sadgill, Great Howe, Grey Crag, Harrop Pike, Tarn Crag, Branstree, Artlecrag Pike, Selside Pike, Gatescarth Pass, Longsleddale
Start Point:
Sadgill Bridge
Grid Ref:
NY 483 057
Distance:
10.5 miles
Ascent:
3,600 feet
Weather:
A dry and sunny day with a cold wind on some of the summits
Accompanied by:

12 members of the group

Comments:
Taking the short route up to Great Howe we had a stiff climb soon after leaving the cars. The path, after the junction of wall and fence, was indistinct and it would be worth changing the route after Easy Gully next time this walk is attempted. From Great Howe there is a reasonably clear path to Grey Crag and across to Harrop Pike - not a Wainwright but it is a 'Birkett'. Navigating across Greycrag Tarn (a boggy area without a tarn!) we finally made our way up to Tarn Crag. After a brief inspection of the survey pillar we continued on to cross the Mosedale Valley path and climb up to Branstree. As it was still reasonably early in the day and it was still sunny, we decided to add Selside Pike to the walk, a round trip of 2.2 miles and 500 feet of ascent. As we crossed a number of snow drifts on the way Phil and Ian found some rather deep holes in the snow! After descending to Gatescarth Pass we trekked the 2½ miles down the rocky path back to the cars.
Scroll down to see photos of the walk
The steep initial ascent from Sadgill Bridge . . .
from where we can see the path and the River Sprint snaking up Longsleddale Valley
The Shipman Knotts, Kentmere Pike and Harter Fell ridge
From Great Howe we can look back down the Longsleddale Valley
Making our way across . . .
to Grey Crag . . .
and one for the album
Harrop Pike looking towards the Pennines
The cairn on Tarn Crag . . .
and the survey pillar, used when the aqueduct from Haweswater was constructed
Harter Fell on the left with Rough Crag in the gap, catching the sun and overlooked by Kidsty Pike which is in shadow
Looking down the Mosedale Valley . . .
we can see Mosedale Cottage, now a private bothy
The beginning of the climb up to Branstree . . .
and the end of it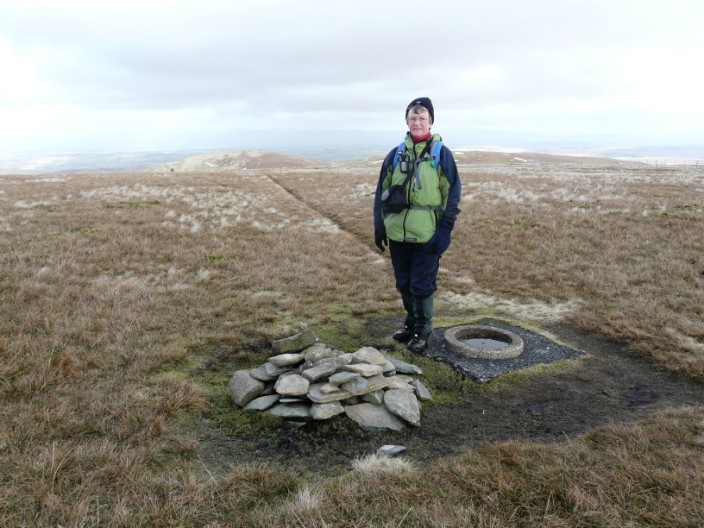 Branstree looking towards Selside Pike
The cairns at Artlecrag . . .
with interesting rock strata to navigate
Haweswater
The substantial shelter on Selside Pike
On the way back we spot a snow drift that nearly reaches the top of the fence
From the slopes of Branstree we can make out our return path down the valley . . .
and across Gatescarth Pass some people are descending from Harter Fell
Zooming in on the Harter Fell path
The waterfalls on the River Sprint as we descend the long track back to the cars
Return to 2009 Diary Return to top