Wednesday, 23rd September 2009
Walk:
Giggleswick, Cocket Moss, Birchshow Rocks, Big Hill, Gisburn Common, Whelp Stone Crag, Hesley, Swainstead Raike, Littlebank
Start Point:
Giggleswick station
Grid Ref:
SD 803 628
Distance:
11 miles
Ascent:
1,800 feet
Weather:
Dull in the morning but brightening up in the afternoon
Accompanied by:

On my own

Comments:
With a large free car park Giggleswick Station is the perfect place to start a walk. Quickly leaving the side road I headed across fields to Cocket Lane, an old green lane which catered for a stream and was extremely overgrown - not easy walking! Leaving the lane behind I was pleased to find that a raised embankment carried me across the mire of Cocket Moss to a dry path leading past Birchshow Rocks. A stop for morning coffee amongst the rocks was inviting but, unfortunately, too early in the walk. A farm track then lead the way to the open fell at the meeting of Giggleswick Common and Rathmell Common. Detouring up Big Hill avoided some of the juicier sections and I made good time across to Gisburn Forest. A clear path skirted the edge of the forest then led along a wide forest path to the foot of Whelp Stone Crag. After some exploration of this rocky outcrop I headed down to Whelpstone Lodge - a fine name for a derelict building! Track and road then took me on to my first obstacle, a gate that was not only bolted but protected by extra wire - must notify the authorities. Fortunately there was a nearby alternative path to see me on my way. Looking forwards to the 'superb green way' I was disappointed to find that it was now a rough stony track. Then, the second obstruction of the day - a path crossed by a collection of fencing and gates all bound together to prevent onward passage (for some, but not for me). From here the route crossed pasture land and fields back to the car. A very enjoyable day - with a number of detours.
Scroll down to see photos of the walk
A couple of horses check my progress along the overgrown green lane, Cocket Lane
Birchshow Rocks
Foxholes Crag
Gisburn Forest, the largest forest in Lancashire, was mainly created by the Forestry Commission in 1948
A wide path leads through a small section of forest
A rocky outcrop on the way to . . .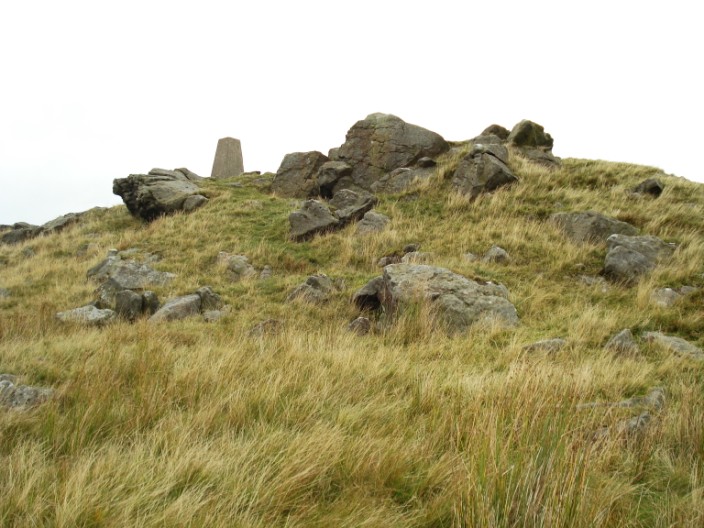 Whelpstone Crag . . .
from where you can see a greater extent of forest . . .
and find some felled sections
The camera struggles to keep its balance in the windy conditions
Part of one of the new mountain bike tracks in the forest
Looking back to the trig point . . .
from the craggy northern rim
Crossing Hesley Beck
Swainstead Raike was 'a superb green way between walls' but now it is a rough stony track
Coney Garth, a rabbit warren - but none of the inhabitants were evident today!
Not many facilities at this station - but the car parking is free!