Sunday, 24th May 2009
Walk:
Mardale, Rough Crag, Riggindale Crag, High Street, Mardale Ill Bell, Harter Fell, Branstree, Selside Pike, Old Corpse Road
Start Point:
Mardale Head
Grid Ref:
NY 469 107
Distance:
10.5 miles
Ascent:
3,800 feet
Weather:
An early mist on the high fells cleared to leave a sunny day with a cool breeze
Accompanied by:

8 members of the group, led by John L

Comments:
Walking around the head of Haweswater reservoir we soon left the crowds behind and commenced the climb to Rough Crag where we stopped for a coffee break, enjoying the splendid views along the way. After ascending Riggindale Crag we made our way up the stony track of Long Stile and on to High Street where we took a brief pause for photos. Again, enjoying the great views we moved on to Mardale Ill Bell before descending to Nan Bield Pass. Then it was 'upwards' once more as we followed the track to Harter Fell. Taking advantage of the views at the end of this ridge we had lunch overlooking Haweswater and noted that the water in the reservoir is higher than we have seen it for some time. After descending to Gatescarth it was 'upwards' once more to reach the disappointing cairn on Branstree. After a detour to Artle Crag, with its much more substantial cairn, we made a second detour to walk pass the water board pillar on our way to Selside Pike. Leaving our last summit we were surprised to be taken in a different direction to that expected, crossing more directly to the Old Corpse Road. A welcome tea break was taken, enjoying views of most of the walk. After making the final descent we returned to the cars via the lakeside path, having enjoyed a great walk in very good weather.
Scroll down to see photos of the walk
Beginning the climb to Rough Crag . . .
Speaking Crag juts out into the water
After a bit of a scramble . . .
the views are even better
A coffee stop on one side of Rough Crag . . .
whilst Blea Water is clearly seen from the other side
Ascending Riggindale Crag . . .
before making our way up Long Stile . . .
which has great views back down the Riggindale Valley
At last - a clear day on High Street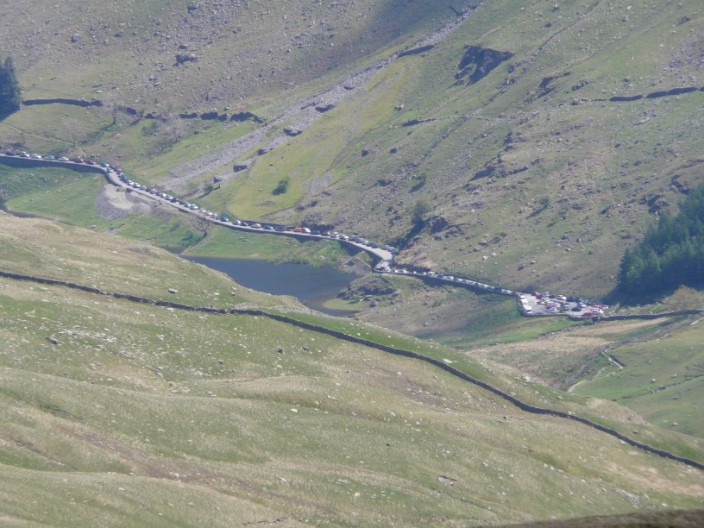 Many more people have arrived since we left!
Sunny but a cool breeze on Mardale Ill Bell . . .
and as we leave, Yoke, Ill Bell and Froswick are on our right
Across Small Water to Haweswater . . .
and in the opposite direction we see Kentmere Reservoir
Yet another view of Haweswater as we descend to Nan Bield Pass . . .
and climb up to Harter Fell
A cairn, a shelter and 'sculpture!!!!
We take advantage of another view of Haweswater . . .
as we stop for lunch . . .
in the shelter of some rocks
The cairn on Branstree is disappointing . . .
but the one on Artle Crag . . .
is much more impressive
Heading across to the water board pillar . . .
the group inspects its construction . . .
before deciding on whether to get the fishing rods out en route to . . .
Selside Pike
Is John taking us directly down to Haweswater?
No, but a good shortcut brought us to the Old Corpse Road . . .
and down the path . . .
past Rowantreethwaite Gill waterfall
The road bridge above and footbridge below take us across the same Gill . . .
as we follow the lakeside path . . .
along Haweswater - I believe the island was constructed to make the reservoir look more natural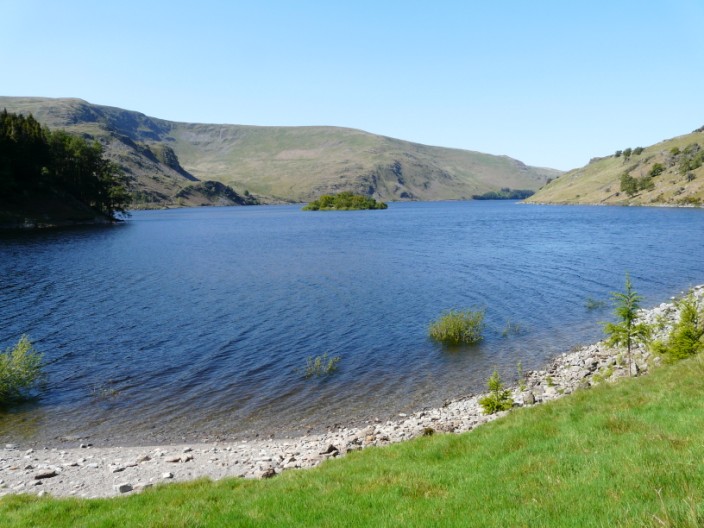 And a last look back along the reservoir . . .
passing a family of ducks on the way back to the car