Sunday, 25th January 2009
Walk:
Lose Hill , Back Tor, Hollins Cross, Mam Tor, Oxlow Rake, Limestone way, Cavedale, Peveril Castle
Start Point:
Castleton car park
Grid Ref:
SK 150 830
Distance:
10.3 miles
Ascent:
2,450 feet
Weather:
A dry and sunny day with a cold wind on the ridge
Accompanied by:

7 members of the club

Comments:
Having completed this walk in the opposite direction some years ago I was looking forward to walking in this area again. Having expected some rather bleak weather we were pleased to have a sunny start as we headed up to Lose Hill. From here we could see the undulating route to Mam Tor and were soon on our way. A short pause on Back Tor gave us time to explore (visually) the Edale Valley before the steep descent. Back Tor would look much more impressive if approached in the opposite direction. Passing Hollins Cross there was no sign of the sheep that tried to take sandwiches out of my backpack on my last visit! From here the route is paved almost to the summit of Mam Tor and the A625, which was swept away by a landslide in 1974, can be clearly seen. Reaching Mam Tor we found it encircled by a number of plaques displaying items that may have been used here when it was an Iron Age hill fort. Mam Tor, or 'Mother Hill', is also known as "The Shivering mountain" due to the frequent landslips of shale after each heavy rain. Following an easy descent we continued across the moor to Conies Dale before heading up Oxlow Rake to join the Limestone way. Finally we made our way down the narrow, steep descent that is Cave Dale. When we had time to raise our eyes from the rocky terrain we were able to admire the Keep of the 11th century Peveril Castle.
Scroll down to see photos of the walk
Our main objective, Mam Tow, is visible for near the start of the walk
By the Left Quick March!
Heading up Lose Hill . . .
and taking a close look at the Topograph
Marie . . .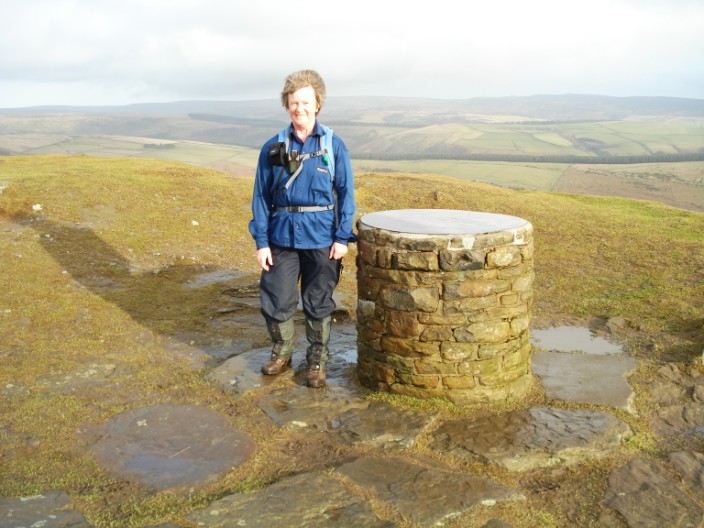 and Kath pose for the camera
An artistic cairn on Back Tor . . .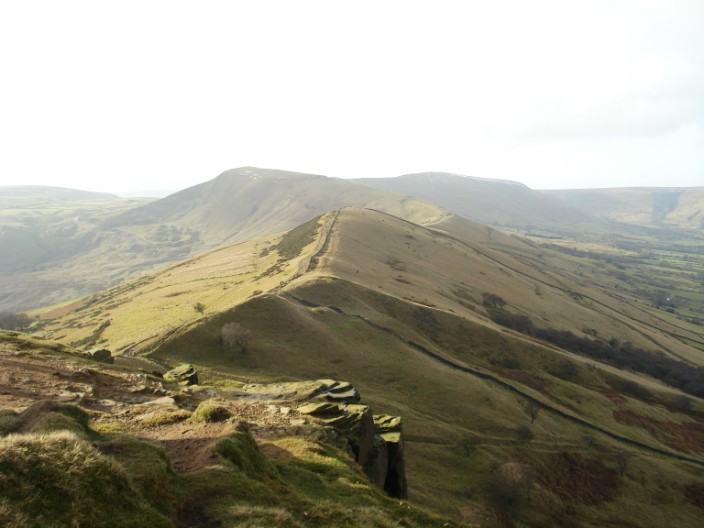 which has a sharp drop at this side . . .
more clearly seen from this angle
Marie . . .
and Kath at Hollins Cross . . .
but join forces on Mam Tor
where we find sculptures of Iron Age artefacts set around the trig point, and an image of what the Hill Fort may have looked like
Heading down Cave Dale . . .
we are walking on the roof of a gigantic cave, Peak Cavern . . .
and see how the Normans used the natural steepness of the valley sides for defence . . .
when building Peveril Castle
Castleton has lots of shops to interest the visitor