Friday, 27th November 2009
Walk:
Grizedale Bridge, Fell End, Harrisend Fell, Catshawe Greave, Grizedale Head, Hayshaw Fell, Grizedale Intake
Start Point:
Grizedale Bridge
Grid Ref:
SD 535 491
Distance:
7 miles
Ascent:
1,020 feet
Weather:
Dull with showers becoming sunny in the afternoon
Accompanied by:

On my own

Comments:
The day started with a heavy shower, and intermittent showers made photography difficult. The path around Harrisend Fell was clear, if somewhat muddy. After a short spell on the road I took the shooters' path alongside Catshaw Greave but soon left this to battle through the heather clad hillside of Pig's Face. Crossing the plateau to Grizedale Head was through more heather and was mainly boggy but passable. The boundary fence provided a great handrail to across Hayshaw Fell and down to Grizedale Intake. By the time the sun was shining but the path beside Grizedale Brook was patchy and the route was sometimes blocked by Hawthorn bushes. The views would have been great on a good day but today a mist in the distance limited what could be seen.
Scroll down to see photos of the walk
Looking back down Catshaw Greave and across to Abbeystead Fell . . .
and higher up the indistinct path leads up beside Far Catshaw Greave
The weather has cleard by the time I reach Hayshaw Fell . . .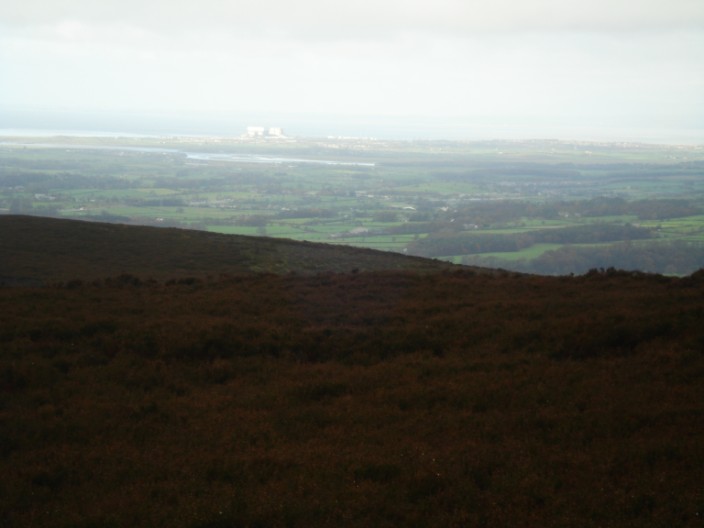 from where the coast, and Heysham power station are visible
Eventually the sun has shown its face, at Grisedale Intake . . .
and finally back at Grizedale Bridge the clouds are revealing a blue sky
Return to 2009 Diary Return to top