Thursday, 30th April 2009
Walk:
Alnmouth, Boulmer, Craster, Dunstanburgh Castle, Low Newton-by-the-Sea
Start Point:
Alnmouth
Grid Ref:
NU 245 108
Distance:
12 miles
Ascent:
1,000 ft
Weather:
Mainly dry but dull with some rain towards the end of the walk
Accompanied by:

Marie

Comments:
To make the most of the coast we planned a linear walk between Alnmouth and High Newton-by-the-Sea. There is a large car park between High and Low Newton, £2.00 for all day. We walked from there to High Newton where we caught the 10.15am bus - Arriva 501. This took us to the road between Alnmouth Station and Alnmouth. Crossing to the opposite side of the road we only had to wait a few minutes for the Arriva 518 bus which took us to Alnmouth. Getting off the bus by the church we were then able to walk across to join the coast path. It was a pleasant walk with only slight undulations but a mist in the distance hampered the views.
Scroll down to see photos of the walk
We took time to check out some cornflowers . . .
whilst we waited for the bus
We joined the coast path just north of Alnmouth
A rocky beach provides seats for our morning break . . .
and a beach walk before rejoining the path
Walking towards Foxton Hall . . .
we get a close up view of the rock strata along this coast
Crossing Seaton Point headland we find . . .
some unusual birds!
Looking north . . .
and south the beach is deserted . . .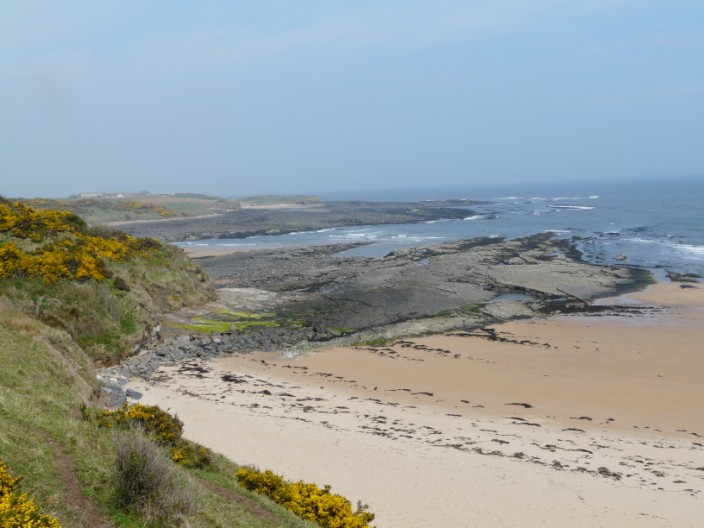 and the gorse adorns the banks
The sun highlights the colour of the gorse before we come across . . .
some unusual accommodation
Fortunately there is an information board . . .
to tell us all about it . . .
and with open access . . .
we soon check out the inside . . .
but I don't think the roof or walls . . .
would keep the rain out
Some rocks provide shelter from the wind at lunch time
Looking back to our lunch spot before . . .
we pass Sea Houses
There are lots of primroses on show along our way
Just before reaching Cullernose Point . . .
we get a close up view of the bird life on the cliffs
A different type of rock strata as we approach Craster . . .
where there is a picturesque harbour . . .
but when the tide is out . . .
boats don't get far into it!
Leaving Craster Dunstanburgh Castle is a short walk away . . .
along a wide grassy path
Owned by the National Trust we decide not to inspect the interior . . .
but take in the sights from the outside
Two guarderobes are still intact on this tower
Leaving the castle behind we find . . .
an unusual example of the rock strata
Return to 2009 Diary Return to top