Sunday, 5th April 2009
Walk:
Sadgill, Great Howe, Grey Crag, Tarn Crag, Brownhowe Bottom, Longsleddale
Start Point:
Sadgill
Grid Ref:
NY 483 057
Distance:
6 miles
Ascent:
2,120 feet
Weather:
Cold initially, especially at higher levels, but sunny and warmer on the return route
Accompanied by:

Joseph and Beth

Comments:
The initial climb is steep and it took some time to reach Great Howe. It was then a steady walk to Sleddale Fell and a gentler climb up to Grey Crag. After navigating the peat bogs as we crossed Greycrag Tarn (which is just a boggy area!) we stopped in the shelter of some rocks to eat lunch. By this time it was getting quite cold and extra layers were needed. As Tarn Crag was the last summit spirits were high as we descended to Brownhowe Bottom. On the return path down Longsleddale, waterfalls provided a distraction from the rocky path and a few stones found their way from the path into the waters of the River Sprint!
Scroll down to see photos of the walk
Pausing at the top of the first climb, the car can just be seen near the bridge
Making our way up the next part of the climb . . .
Beth checks out some of the rocks
Longsleddale - our return path
Time for a morning break in the sun
Beth spots a rabbit that seems to be hibernating?
Great Howe
Grey Crag - wake up Beth!
Mountaineer Joseph . . .
and a very pleased Beth
We managed to find some shelter from the wind for a lunch stop - but it was still cold!
Tarn Crag . . .
the second . . .
and last Wainwright of the day
The pillar on Tarn Crag . . .
erected by the Water Board
Waterfall on the River Sprint . . .
encouraged some stone throwing practice . . .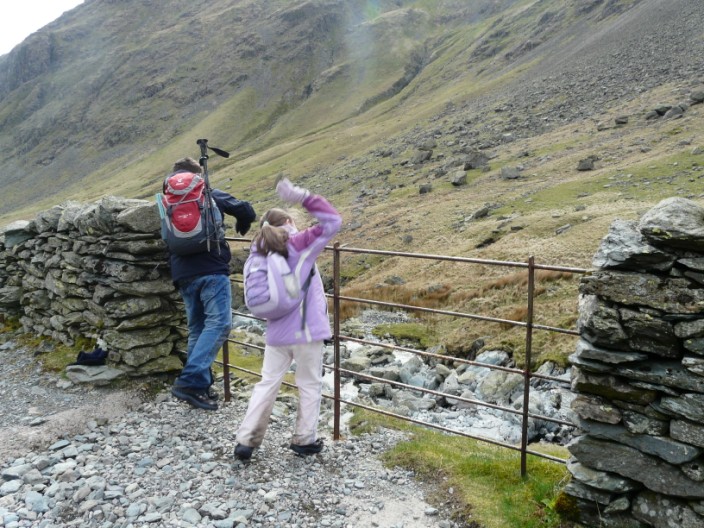 as we walked down the long, stony Longsleddale path