Wednesday, 5th August 2009
Walk:
Brotherikeld, Lingcove Bridge, Scar Lathing, Cam Spout, Mickledore, Scafell Pike, Little Narrowcove, River Esk valley
Start Point:
Jubilee Bridge, Hard Knott Pass
Grid Ref:
NY 213 011
Distance:
11 miles
Ascent:
3,600 feet
Weather:
Warm and dry but with a very cold wind on Scafell Pike
Accompanied by:

Marie, Andrea, Gill and Shep

Comments:
Leaving the car park we headed up the valley, marvelling at the magnificent scenery. After crossing Lingcove Bridge we climbed to Great Moss where we had to cross the River Esk near Cam Spout Crag. Eventually making our way across, we climbed the waterfall beside How Beck. From here, instead of climbing beside the waterfall to Foxes Tarn and Sca Fell (as originally planned), we headed straight up to Mickledore and on the Scafell Pike. Finding a sheltered spot for lunch just short of the summit, we were amazed at the number of people passing each way. Finally making our way to the summit the very cold wind stopped us from spending time there and we were quickly on our way down to the hause. Descending beside Narrowcove Beck we eventually reached the River Esk valley and returned along our outward route.
Scroll down to see photos of the walk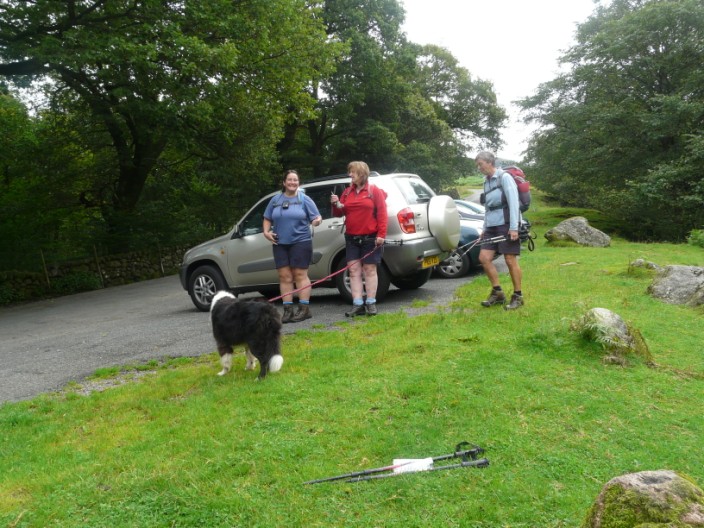 Parking at Jubilee Bridge . . .
we were soon on our way up the River Esk valley . . .
one of the best valleys I have walked in
Pausing at Lingcove Bridge . . .
it was a steady climb . . .
with the Scafells soon coming into view
The real climbing started when we reached Cam Spout . . .
but it wasn't as bad as it looked
Another waterfall to our right deserved a shot . . .
as we approached Broad Stand . . .
and made our way up the scree path . . .
to Mickledore - the head of Wastwater now coming into view
With so many people around Marie chose the rocks for her summit photo . . .
whilst I opted for the trig point . . .
and we left the hordes to explore the main summit
On our descent we had a good view of Kirk Fell on the left and Great Gable right of centre
A path on the left traces its way beside the boulders . . .
and after a further descent we eventually reach the valley floor
Heading back past Scar Lathing . . .
we take a last look at the Scafells . . .
and are pleased to have arrived back at the car
Return to 2009 Diary Return to top