Sunday, 5th July 2009
Walk:
Patterdale, Arnison Crag, Birks, St Sunday Crag, Grisedale Tarn, Grisedale Valley
Start Point:
Patterdale Hotel car park
Grid Ref:
NY 395 159
Distance:
9.5 miles
Ascent:
3,100 feet
Weather:
Mainly sunny with a light breeze on the ridge
Accompanied by:

Marie & Sheila

Comments:
As we drove over the Kirkstone Pass we were pleased to find that we were leaving the mist covered peaks behind and there were blue skies ahead. The path starts out gently but the gradient increases as you make your way up by the wall. Detouring from the main path we located the summit of Arnison Crag before heading downhill to Trough Head. From here it is a steep climb up to Birks and the views over Ullswater make for welcome breaks on the way. The route to St Sunday Crag may be steep but climbing over rocks makes it more interesting than the grassy ascent we had left behind. With most of the climbing now out of the way we made our way on to Deepdale Hause and down to Grisedale Tarn. After a lunch stop by the waterfall we continued down the never-ending Grisedale Valley (4 miles), taking a well-earned coffee break en route. A short climb to the woods then took us back to the cars.
Scroll down to see photos of the walk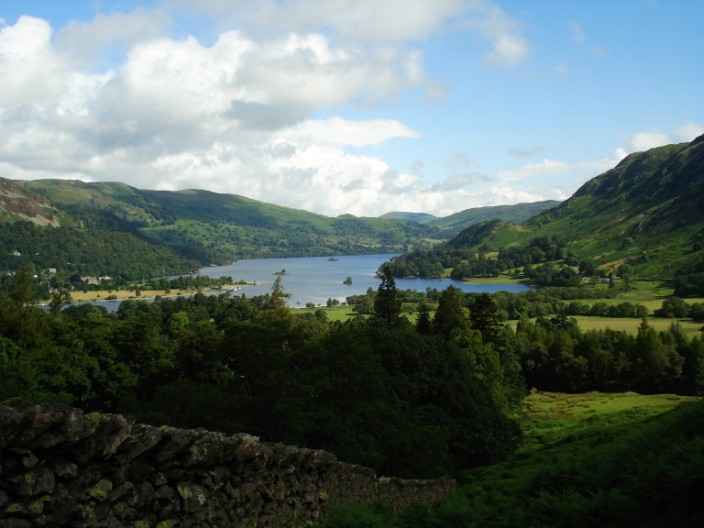 Ullswater from the beginning of the climb to Arnison Crag . . .
and we are treated to a rainbow . . .
before taking another shot of Ullswater from higher up the path
Arnison Crag
A pause for anothe shot of Ullswater gives time for a breather on the steep climb up to Birks . . .
where Sheila checks out the route to St Sunday Crag . . .
and I have 'one for the album', with Striding Edge and Helvellyn in the distance
Most of the climb now out of the way we start to make our way down to Grisedale Tarn . . .
which is overlooked by Seat Sandal
The Grisedale Beck waterfall makes a good place to stop for lunch . . .
The Brothers Parting Stone, a commemoration to the last parting of William Wordsworth and his brother John at Michaelmas 1800. John commanded the Abergavenny which was sunk with all hands lost February 5th. 1805.
Ruthwaite Lodge, a climbing hut . . .
overlooked by the waterfall in Ruthwaite Cove
A young calf poses for the camera
Return to 2009 Diary Return to top