Thursday, 5th March 2009
Walk:
White Coppice, Dean Black Brook, Great Hill, Round Loaf, Hurst Hill, Grain Pole Hill, Pikestones, Moor Road, Stronstrey Bank
Start Point:
White Coppice
Grid Ref:
SD 618 190
Distance:
6.6 miles
Ascent:
950 feet
Weather:
A dry day with some sun in the morning
Accompanied by:

On my own

Comments:
Having previously searched for the Pikestones on 26th February and not found them, I did some more research and found two other tops to explore, Hurst Hill and Grain Pole Hill. I planned to visit Great Hill first, taking a different route to the one I usually follow, via Dean Black Brook. This started out as a wide grassy path but soon dwindled to a narrow rocky path. Arriving at a rocky outcrop the path looked impossible to follow but I found another path which led higher up the banking. Eventually I left the path to join the more usual route on to Great Hill. Following the flagged path to the stile I then branched off to walk to Round Loaf. From there I headed WSW to Hurst Hill. I eventually found a cairn that was in a poor state of repair. My route then led just North of West to Grain Pole Hill where there was a more defined summit point and cairn. I then trekked just East of South to find the Pikestones. As I had come armed with a grid reference for them I was able to find them easily. The route between Round Loaf and the Pikestones was mainly through pathless hummocky grass, rather wet at times. From the Pikestones I followed a path to Jepson's Gate and along the road past the Manor House. I continued along the road and took the path through the woodland to meet Stronstrey Bank and back to White Coppice.
Scroll down to see photos of the walk
Dean Black Brook with its initially clear path . . .
but at the rocky outcrop the gap between rocks is just too big (though you can't tell from this photo)
Another path leads you higher up the banking . . .
and meanders up and down alongside the brook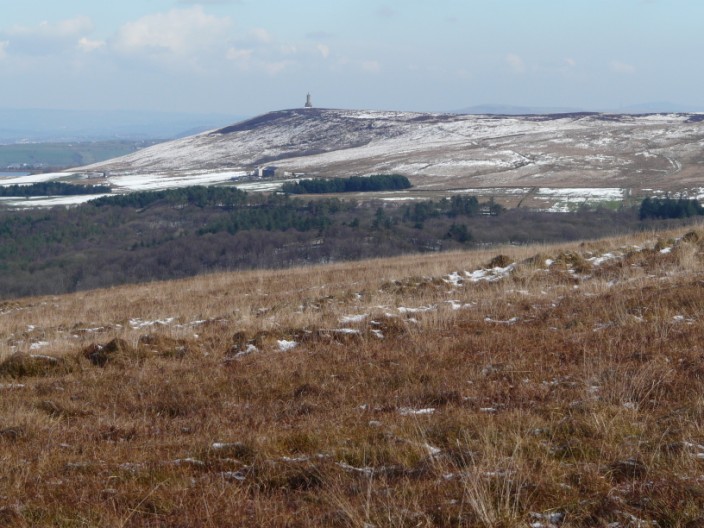 From Great Hill Jubilee Tower looks within easy reach . . .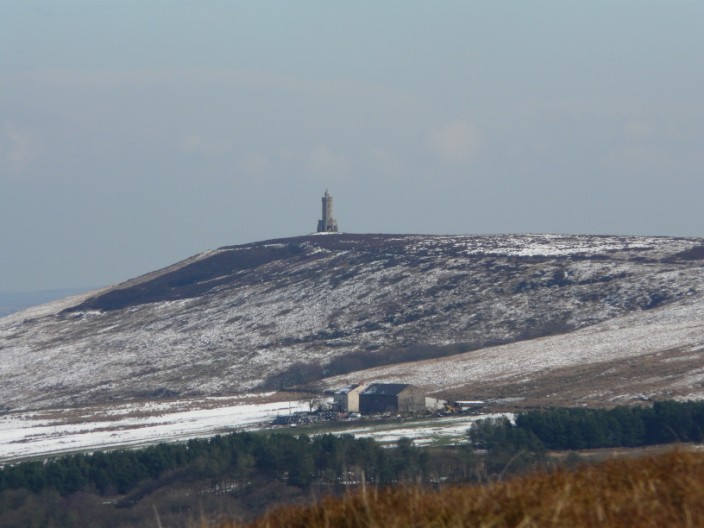 especially when I zoom in on it
The sun brightens up the cross shelter on Great Hill
Heading for Round Loaf . . .
and zooming back to it from Hurst Hill
The cairn on Hurst Hill leaves much to be desired . . .
and from Grain Pole Hill Healey Nab is in view . . .
as are Anglezarke and Rivington Reservoirs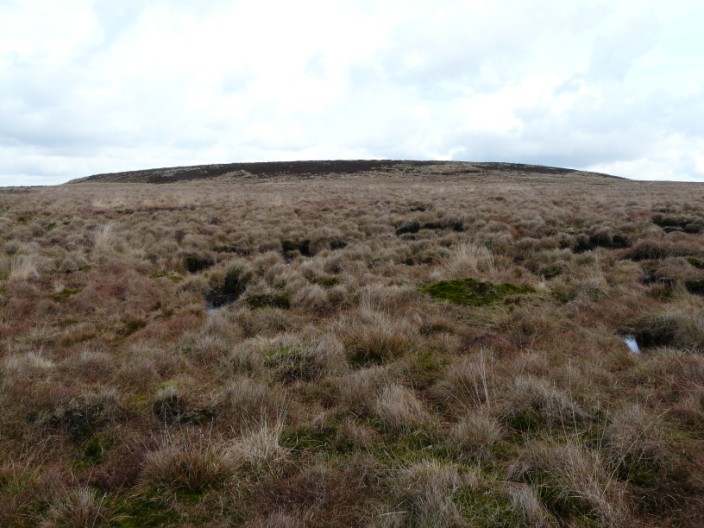 Hurst Hill from the walk between Grain Pole Hill and the Pikestones
The Pikestones - with the spiral shaped carving added by vandals . . .
The stones are the remains of a 5,000 year old Neolithic long barrow, or burial chamber . . .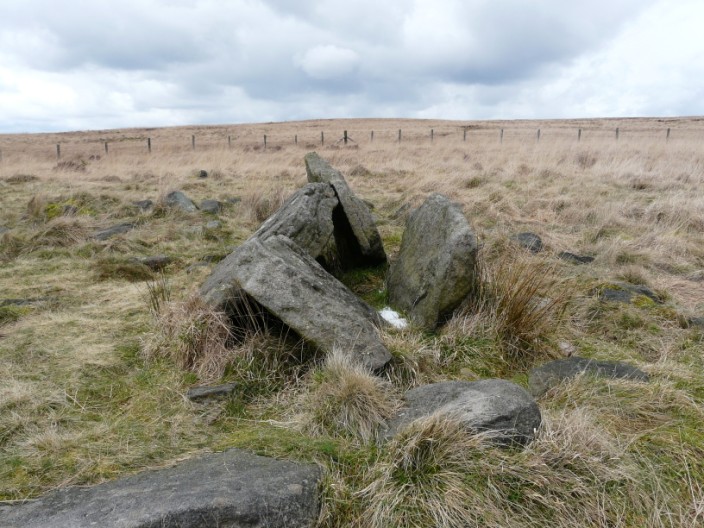 and are protected by English Heritage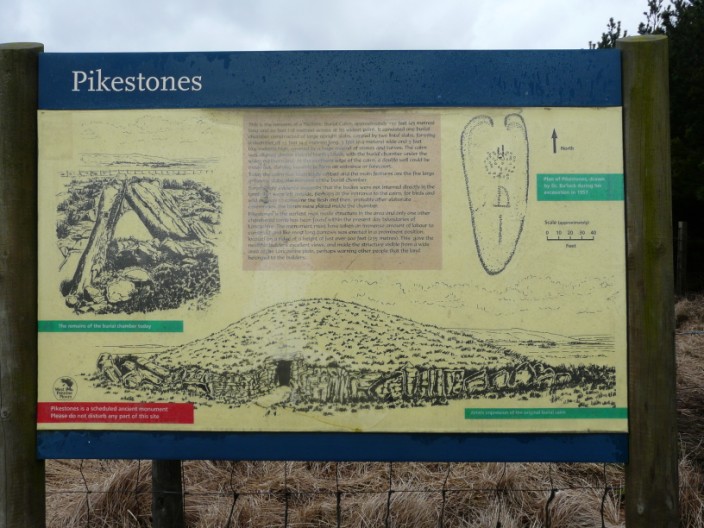 A nearby board . . .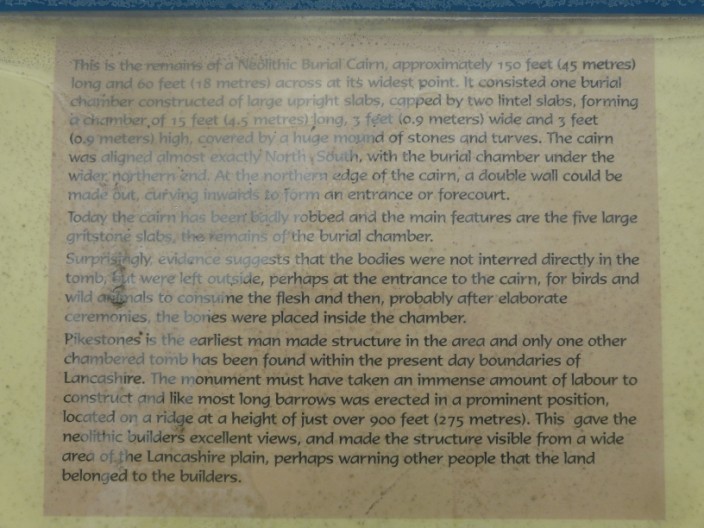 gives more information about what it would have been like . . .
together with a plan drawn during excavation at the site . . .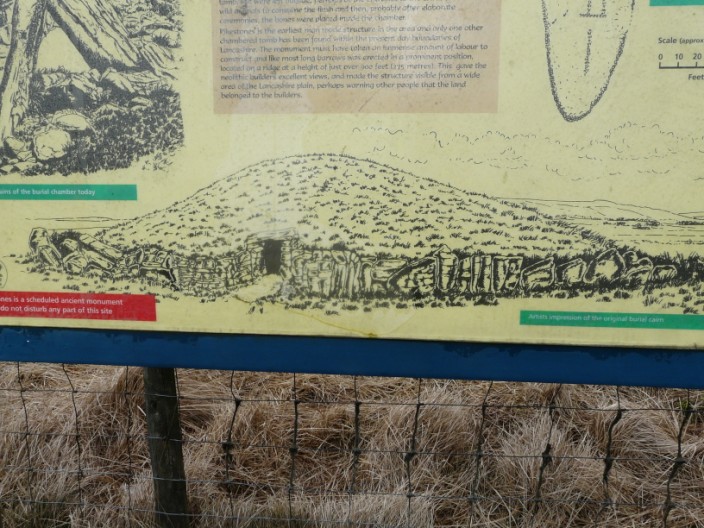 and an artist's impression of the original burial cairn
Manor House Farm . . .
and from the bridge across Dean Black Brook you can just see the path I started on